Breaking News
NORWICH – The defendant prosecutors believed was primarily responsible for causing the death of Jacelyn O'Connor pleaded guilty to murder and rape in Chenango County Court Friday morning. He is set to be sentenced to 20 years-to-life in prison, after he accepted a plea-deal offered by prosecutors. Tobias Rundstrom-Wooding, 34, of Norwich, ple... read more...
The Evening Sun is Chenango County, New York's Hometown Daily Newspaper.
We publish our print edition five days a week out of our Norwich, NY offices.
June 24th, 2018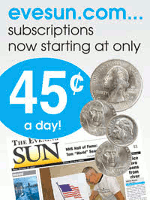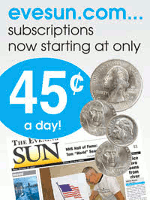 Local Headlines
The Evening Sun on Twitter
© 2018 Snyder Communications/The Evening Sun
29 Lackawanna Avenue, Norwich, NY 13815 - (607) 334-3276