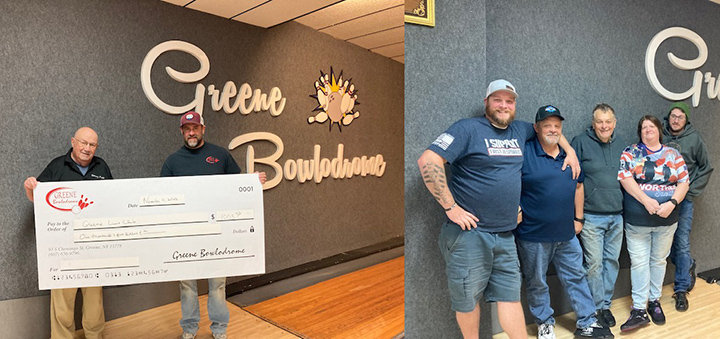 John Bennett from the Greene Lions Club accepts the $1005 check of the tournament's proceeds from Sean Miller, owner of the Greene Bowlodrome. (Submitted Photo); Congratulations to the McGowans on winning their third Greene Bowlodrome Lions Club bowling tournament. The team bowled a total score of 3907. (Submitted Photo)
GREENE – The Greene Bowlodrome held its ninth annual Lions Club Bowling Tournament on November 11, where the tournament raised over $1,005. These funds went directly to the Greene Lions Club.
The winning team, who bowled a total score of a 3907, were the McGowans. The team of Dave McGowan Sr, Brenda McGowan, Erik McGowan, Greg McGowan, and Brett McGowan picked up their third Lions Club tournament win. In second place was Brandi, Stevie, AJ, Matt, and Melissa, who bowled a total 3763 while Sue, Maury, Jim, Jenn, and Bill finished third with a score of 3709.
Thank you all for coming out to support the 9th Lions Club Bowling Tournament. There was a great turn out and hope everyone enjoyed themselves! Special shout out to the bowlers!
-Information from the Greene Bowlodrome