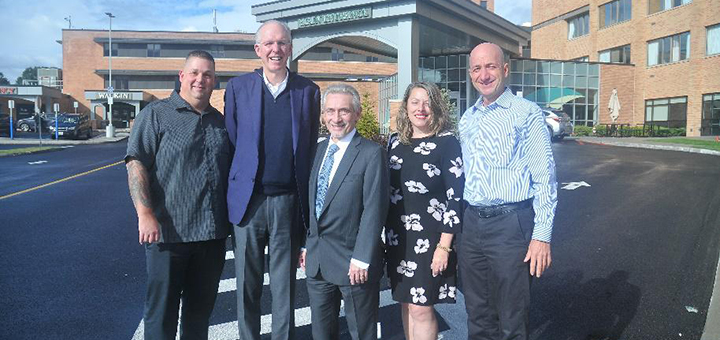 UHS Chenango Assistant Vice President of Support Services Rich Stone, NBT Bank President & CEO John H. Watt, Jr., UHS CMH President, Chief Executive Officer and Chief Medical Officer Drake Lamen, MD, Chenango Memorial Hospital Foundation Executive Director Melissa Stagnaro, and NBT Bank President of Retail Community Banking Joe Stagliano. Stagliano is also the chair of the UHS CMH Board of Directors. (Submitted photo)
NORWICH – NBT Bank leaders recently toured the newly renovated facilities at UHS Chenango Memorial to catch a glimpse of the newest hospital enhancements.
In 2019, NBT committed to a $500,000 contribution to the UHS Chenango Memorial Hospital capital campaign to support construction of a new Emergency Room and Walk-In Center at the Norwich hospital, as well as strategic investments in Diagnostic Imaging and infrastructure to support the growth of future services. The work completed is part of the first phase of the hospital's Chenango Medical Neighborhood Plan, an investment of more than $26 million to transform the delivery of care at UHS Chenango Memorial.
"We are deeply grateful to NBT for their commitment to our hospital and community," said UHS Chenango Memorial President and CEO Dr. Drake Lamen. "Their generosity and leadership helped make these historic investments possible, and we are grateful for their support and indeed, all they do for our community."
"I'm incredibly impressed with the transformational work that the Chenango Memorial team has accomplished to date," said NBT Bank President & CEO John H. Watt, Jr. "It is imperative to us that we support quality medical care in Chenango County to improve the health and quality of life for our neighbors and family in the county we have called home for over 160 years."
NBT Bank offers personal banking, business banking and wealth management services from locations in seven states, including New York, Pennsylvania, Vermont, Massachusetts, New Hampshire, Maine and Connecticut. The bank and its parent company, NBT Bancorp., are headquartered in Norwich, NY. NBT Bancorp had assets of $13.83 billion as of September 30, 2023.
– Information from NBT Bank