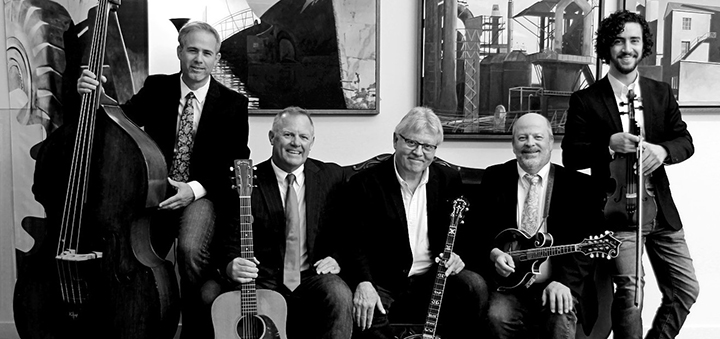 Rock Heart Bluegrass Band performs at 7 p.m., Saturday, November 18, at the Bainbridge Town Hall Theatre, 15 North Main Street, Bainbridge. (Submitted photo)
BAINBRIDGE - If you love Hard-driving banjo licks, heartfelt fiddle melodies, dynamic mandolin playing, stunning harmony vocals, and superb arrangements in a fine selection of songs don't miss the Rock Heart Bluegrass Band when they perform at 7 p.m., Saturday, November 18, at the Bainbridge Town Hall Theatre, 15 North Main Street, Bainbridge.
Formed in 2013, Rock Hearts brings together five seasoned musicians from Southern New England who love to sing and pick Bluegrass, Old Country tunes, and seek out tunes from other genres to "Bluegrass-ify". Named an official 2021 IBMA showcase band, the band is enjoying national radio and chart activity. They are a sought-after band for major festivals and recently signed with Sammy Passamano and the 615 Hideaway Record Label in Nashville, TN. They have released their first 615 Hideaway Records Label single from their new project, Wanderlust, which is receiving outstand fanfare and radio attention. Members of Rock Heart include Joe Deetz, whose career on banjo spans over 40 years, Alex MacLeod, with a classic leading voice and rock-solid rhythm guitar, Billy "BT" Thibodeau,  brings his high tenor and lead vocals, along with his fastidious mandolin and splendiferous guitar playing, Austin Scelzo on fiddle and vocals, and Rick Brodsky, a multi-instrumentalist, on bass.
In addition, there's always a special treat when you come to musical events at the Town Hall Theatre. Before the show, enjoy music played on the theatre's residence organ built in 1933 and one of only five Æolian/Skinner residence organs ever built for upstate New York, and the only one known to be intact and in playable condition. Popcorn, popped with real butter in their vintage 1940's popcorn machine, is available, as well as home baked goods, freshly brewed coffee, soda and bottled water.
Doors open at 6 pm and all performances are open seating. Tickets are available at the door or you may reserve a ticket ahead by calling 607-288-3882. For further information or to see future events visit www.jerichoarts.com. In the art gallery that evening the exhibit will be "Collages and Clocks". The gallery is open at 6 pm before the show through intermission and is free to the public.
-Information form the Bainbridge Town Hall Theatre