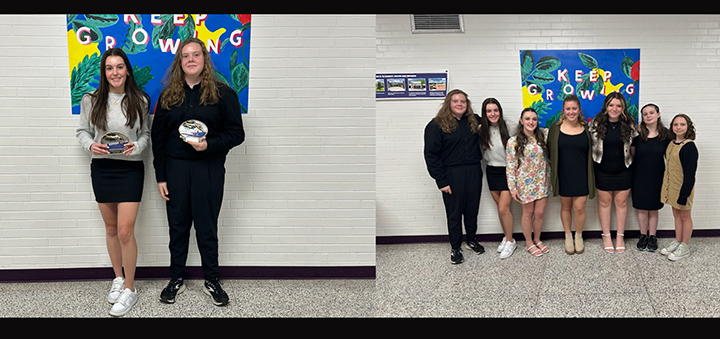 1) Nina Kman (Most Valuable) and Olivia Palmer (Most Improved) pose with their awards during the team's end of season celebration. (Submitted Photo) 2) Congratulations to the 2023 Norwich Purple Tornado girls swim team on a great season. (Submitted Photo)
NORWICH – On Wednesday, The Norwich Purple Tornado girls swim team celebrated their 2023 season. Norwich had a lot to celebrate this season with a three-peat two-time sectional champion, Nina Kman, and everyone working hard to drop personal times from last season, which they ended up dropping 45 seconds in total.
Four of Norwich's six swimmers were selected for the all star team with Nina Kman earning Central/East All Conference while Aurora Shtrauch, Julia Llewellyn , and Mikayla Sastri were named to the All East Division team. Norwich also had one swimmer tie for the final spot of the All star team.
Kman was also named the team's most valuable swimmer while Olivia Palmer received the most improved award.
Congratulations Norwich on a great 2023 season and best of luck to Seniors Julia Llewellyn and Aurora Shtrauch.