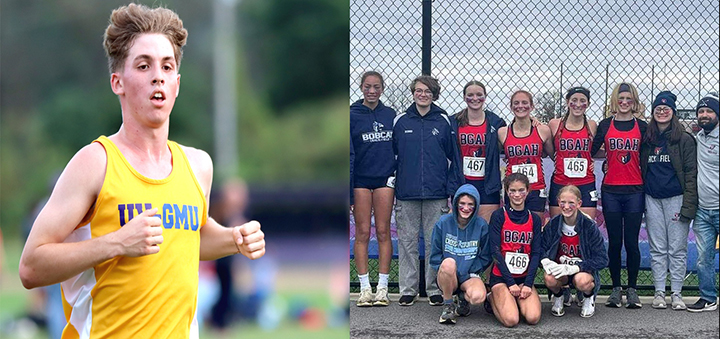 1) Congratulations to Noah Pain for representing UV/GMU in the NYSPHSAA Cross Country championships. He finished 65th among 115 male runners. (Photo from GMUCSD) 2) Congratulations to the Bainbridge/Guilford/Afton/Harpursville girls cross country team on placing seventh in the NYSPHSAA Class C championships. (Photo from BGCSD)
VERONA – After impressive performances at sectionals, Unadilla Valley/GMU's Noah Pain, along with the Bainbridge/Guilford/Afton/Harpursville girls cross country team qualified to compete at the NYSPHSAA championships.
The BGAH girls finished seventh out of 11 placed teams at the State Class C meet held at Veron-Verona Sherrill high school.
UV/GMU's Noah Pain qualified for states after he finished in seventh place at sectionals. Pain came in 65th place with a time of 18:59 out of 115 of the best runners from NY state this season.
After winning the Section IV, Class C title, the BGAH girls were proud to take seventh place, led by senior Ethne Degan. Degan finished in ninth place with a time of 19:49 with six other teammates running in the same race. Maddie Ingham took 59th place as Vanessa Brazee ran for a 75th place finish. Lelania Baldwin (101st), Laila Williams (115th), Jalyn Winans (116th), and Sage Pruskowski (130th) all competed for BGAH in the total field of 131 female runners.
Congratulations to everyone on a great 2023 cross country season.