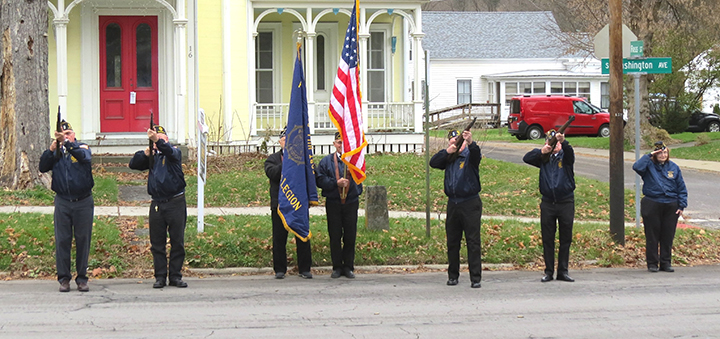 Fort Hill Post 376 Honor Guard will salute all members of the service, of all wars, with a gun salute, on Veterans Day. All are welcome.
 (Photo by Jeanie Petersen)
OXFORD - The Fort Hill American Legion Post #376 invites the community to join them this Veterans Day, Saturday, November 11. The ceremony commences precisely at 11 a.m., when they will reflect on the service and sacrifice of members of the Nation's armed forces with an honorable service, ceremony, "Taps," and light refreshments. 

Since the armistice that ended World War I on Nov. 11, 1918, Veterans Day has stood as an opportunity for the United States, as both a nation and its citizens, to pause and honor American veterans of all wars – and thus a day very close to The American Legion's heart and mission. 

Post 376 Commander Darlene Ardron said "Please come and join the members of our Legion on this special day to thank all who have served in war or peace." 

The Auxiliary of Post 376 is holding a fundraising raffle for a "Complete Thanksgiving Dinner". Tickets $5 each or 5 for $20 are on sale at the Legion during the Sunday Community Breakfast or down in the bar. The winning ticket will be drawn right after the ceremony. (Winner will be contacted if not present.)
Veterans and active-duty military personnel can receive a complimentary meal at the Legion bar on Veterans Day. (Eat-in only.) Menu: Chicken and Biscuit with vegetable gravy. Non Military: $5. The bar will be open at noon. 

The Fort Hill Legion is located at 17 S. Washington Avenue, Oxford. For inquiries, phone the Legion - (607) 843-8166. Web: oxfordlegion.com