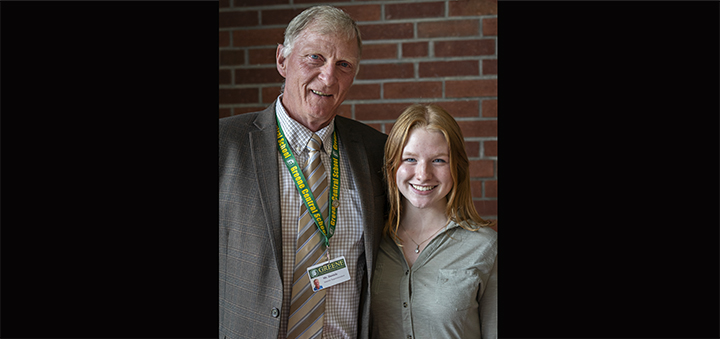 Greene CSD Superintendent David Daniels stands with 2023 Greene CSD Graduate Elizabeth Williamson. Williamson is the first local actor to be named as a cast member of the upcoming film, "Alyssa Mae - Living On The Edge." (Photo by Zachary Meseck)
GREENE – For the first time in the village's history, an independent movie company named Frosted Bridge Films has announced that they would like to partner with the area, and create a film with a Hollywood and local actor filled cast.
The film's title will be Alyssa Mae – Living on The Edge, and is scheduled to be an approximately month long shoot this winter that will take place in locations including the Village of Greene, New York City, and California.
According to representatives from Frosted Bridge Film, Greene captured the company's attention thanks to its scenic downtown area, and stunning school district. They said the film centers around a young woman struggling with the tragic loss of her parents, and after meeting with Greene Central School District Interim Superintendent David Daniels, along with Village of Greene Mayor Phillip Brown, they was convinced that it should be filmed in Greene.
"We are so excited to partner with the Village of Greene and the Greene Central School District," said Frosted Bridge Film Producer and Writer Joanne Tamburro. "Our films have been featured on Netflix, Hulu, and Amazon in the past."
"We want this to be an opportunity for area actors as well, and we will be hiring local people for both minor and major roles."