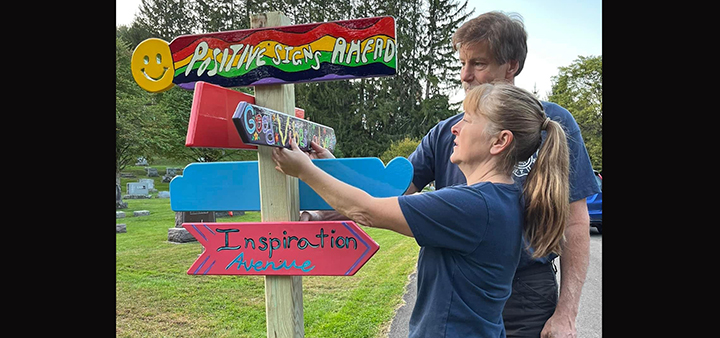 Last week, Dee and Paul Stein helped plant inspirational tree-signs throughout the village of New Berlin. The colorful signs were created by participants in the summer youth program with the vision and support of Program Leader Andreia Keller. (Submitted photo by New York Pizzeria Facebook)
NEW BERLIN — Last week, inspirational sign-trees created by summer youth program participants were planted in the village of New Berlin.
A few of the installed sign locations are in front of St. Andrew's Church on South Main Street, in front of Hyde Park and at the corner of North Main and Genesee Streets.
New Berlin Cultural Center Director Andreia Keller spearheaded the project with her vision of colorful positive sign-trees and the youth then worked on their summer art project. They creating interpretation of the project with words and phrases chosen on the first day of the program.
Keller recently said, "These signs will not only be a source of pride for those that helped create them, but a positive point of interest for all village residents."
What a wonderful project.
Please, login to comment.
---