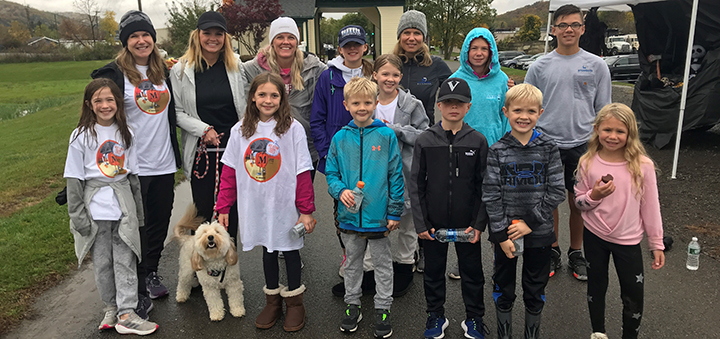 2021 participants of Matthews Auto Walk-a-Thon. This year's event will be held from 9 a.m. to 6:30 p.m. on Saturday, October 7, and will support seven children's charities across New York State, including the Chenango County Child Advocacy Center. Registered participants can pledge miles and walk at Weiler Park in Norwich, the Rail Trail in Vestal or wherever they like. Matthews Auto will donate $10 per mile to the charity of their choice. (Submitted Photo)
NORWICH — It's that time of year when Matthews Auto reaches out to community members to put on their trekking gear and join their 5th Annual Walk-A-Thon to support local charities.
The event takes place on October 7 and offers two different walking locations. Norwich walkers can meet from 9 a.m. to 6 p.m. at Weiler Park in Norwich or from 7:30 a.m. to 6:30 p.m. at the Vestal Rail Trail in Vestal. Virtual walkers are also invited in Syracuse, Rochester, Schenectady, and Scranton PA.
According to Matthews Auto website, they will donate $10 for every mile walked -up to $100,000. $25 donations or more will receive a $25 gift card and they will match cash donations up to $25,000 for a potential donation of $150,000. Special prizes will be awarded to trekkers who exceed 10, 25, and 50 miles on the day of the event.
Child Advocacy Center (CAC) Program Coordinator Joanne Smith said, "We're very excited to collaborate with Matthews Auto. Last year we partnered with them and did a virtual Walk-A-Thon but we decided this year to go big so the community could see us and physically join in.
"We're working with the City of Norwich and will meet at the park with a buzz of activities," she said. "There will be two food trucks, corn hole, a petting zoo, basket raffle, free goodies, and a few radio stations will visit."