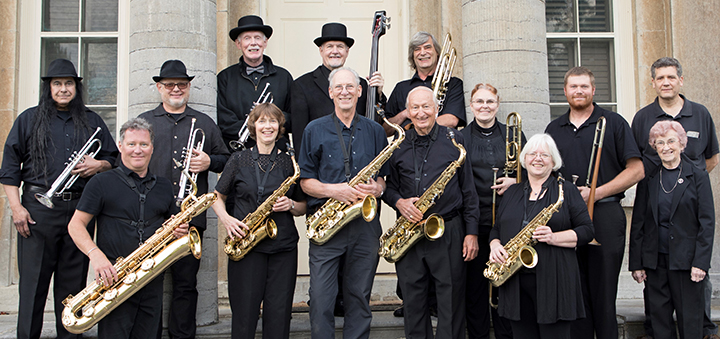 The Small Town Big Band will be performing at Bainbridge Town Hall Theatre on Saturday, September 30. (Submitted photo)
BAINBRIDGE - Come and dance the night away or just sit, relax and enjoy music at its best at 7 p.m.,on Saturday, September 30, in the Bainbridge Town Hall Theatre, 15 N. Main Street.
The Small Town Big Band, based in Cooperstown, is a 14 piece band comprised of people from all walks of life and all ages who enjoy making music together.
The music is arranged in the style of the 'Big Band Era' that so many are familiar with and which is so much fun to dance to or enjoy in a concert setting. Music performed ranges from the 1930's to the present day. You are sure to enjoy the big band sound. Music from "A-Tran" to "Zoot Suit Riot".
The Small Town Big Band has performed at many dances, including Mock USO shows in Cobleskill, The Schoharie Arts Council, American Legion, Beaver Valley Campground, NY State Grange Convention, Otsesaga Resort Hotel, and the Veteran's Outreach Center.
Doors open at 6 p.m. and all performances are open seating. Tickets are available at the door or you may reserve a ticket ahead by calling 607-288-3882. For further information or to see future events visit www.jerichoarts.com. In the art gallery that evening Gallery Member's art will be on display. The gallery is open at 6 pm before the show through intermission and is free to the public.
- Information from the Town Hall Theatre