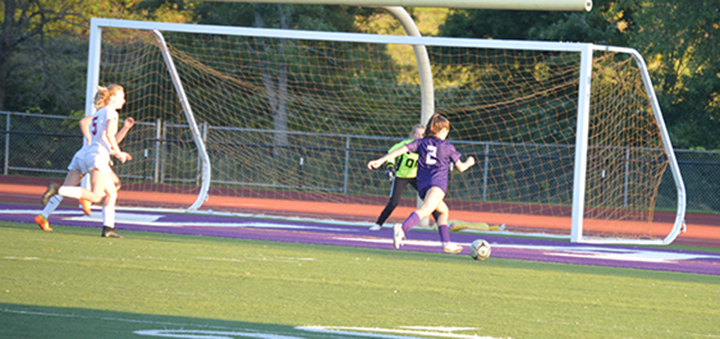 Norwich's Josey Ryan with a great opportunity to score off Owego's goalkeeper. Unfortunately, Norwich suffered the 7-0 shutout loss, snapping a two-game win streak. (Photo by Morgan Golliver)
NORWICH – Coming off two straight road wins, the Norwich Purple Tornado girls soccer team returned home to face Owego. Norwich fell 7-0 on Wednesday evening.
Owego scored in the first 30 seconds before settling in with a total of five goals in the first half. Owego ran down the field on each touch and gave the ball off to their leading scorer each time, who finished with five of the seven goals.
Despite the loss, Norwich pushed through with several touches offensively. Freshman Josey Ryan strived in attempt to score, especially late in the second half, but the Owego goalkeeper stood her ground.
Ryan, who has been dominate early in the season, found back-to-back shots that hit the post and helped Norwich earn a corner kick with under five minutes to go. Emma Urgo also got a shot off in the first half as the Purple Tornado were limited by a quick Owego defense. Maya Adoff was also seen as a vocal leader on the field, encouraging her team to keep going.
Norwich (3-5) looks to bounce back as they head to Seton Catholic on Wednesday, September 27 at 7 p.m.