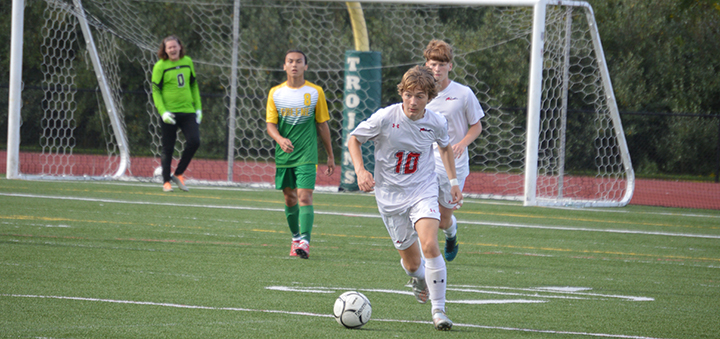 Afton/Harpursville's Bobby Mercilliott (#10) with ball control in a previous game against Greene. The Crimson Knights defeated MAC opponent Oxford 6-1 under Mercilliott's two goals and three assists. (Photo by Morgan Golliver)
HARPURSVILLE – The Afton/Harpursville boys soccer team continues to excel throughout the 2023 season with big wins against MAC League opponents, including a 6-1 victory vs Oxford.
The Crimson Knights continue to be led by Equan Patterson and Bobby Mercilliott. Patterson currently leads the team with 14 goals while Mercilliott isn't too far behind with 12.
Mercilliott scored two goals and had three assists in Wednesday's win over Oxford while Patterson and Braydon Baciuska both contributed with two goals each. Baciuska also had one assist.
Senior Jerry Hornbeck scored the lone goal for Oxford off an assist from teammate Sam Hendricks.
Afton/Harpursville improves to 7-0 with a 3-0 MAC league record and is set to host Delhi on Friday at 4:30 p.m. Oxford (1-5) looks to bounce back as they host Sidney on Friday at 4:30 p.m.
Results:
A/H 6 - OX 1
Goals:
A/H: Bobby Mercilliott 2, Equan Patterson 2, Braydon Baciuska 2
OX: Jerry Hornbeck
Assists:
A/H: Bobby Mercilliott 3, Braydon Baciuska
OX: Sam Hendricks