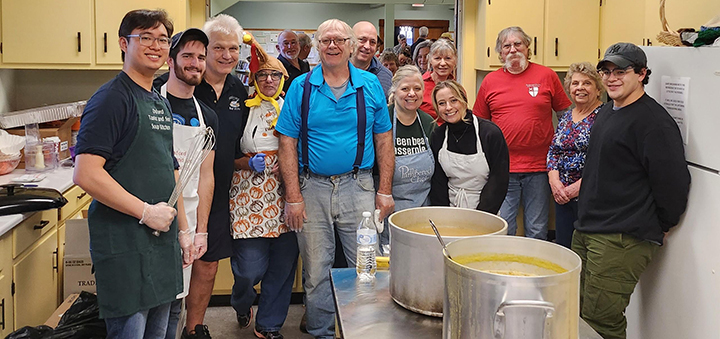 Last year, volunteers with the Emmanuel Episcopal Church located at 37 West Main Street in Norwich, prepared and served 767 free Thanksgiving dinners on Thanksgiving Day; marking their highest number of meals served to date. The church has been providing free monthly meals and Thanksgiving dinners for about 17 years. (Submitted photo)
NORWICH — The Emmanuel Episcopal Soul Kitchen (ESK) is ready to serve up hot and healthy meals at 5 p.m. every third Thursday starting September 21 through May 2024 located at 37 West Main Street.
Kitchen volunteer John Klockowski said they have resumed sit down services after the long interruption caused by COVID-19. Take out service will be available at 5:30 p.m. and any food overage will be packaged and transported to the YMCA for their Helping Hands program on the same evening.
"It's truly a free meal to anybody that wants to walk in the door or orders a meal through the rectory service," said Klockowski. "We really enjoy seeing all the people that come in and seeing our help, the drivers, and people that assemble the packages for people that come in for take outs, and of course the people that actually receive the meals. We see them year in and year out, and we have great conversations."
"The church also has a separate service in the food pantry. The food pantry is operational every week on specific days and hours. Call the office at 607-334-8801 with any questions," Klockowski said.
Klockowski has been involved with soup kitchens for about 12 years starting with Charlie McMullen and the Taste-n-See soup kitchen in Oxford. He said Charlie got the ball rolling with the community meals.
"Needless to say, he has been sorely missed since his passing on Sept. 11, 2021," he added.
"I was sort of his right hand man in Oxford, and so now I'm kind of carrying the torch," he said. "I work with Gary Brookins who runs the administrative portion of the dinner, and I assemble the kitchen help for the monthly meals and Thanksgiving dinners at the Church."
The number of meals served has increased from year to year with a total of 767 meals last year.
The ESK would not survive without the backing of the Episcopal Church, Father Steve, and all of the hard work and planning by Gary Brookins and numerous volunteers.