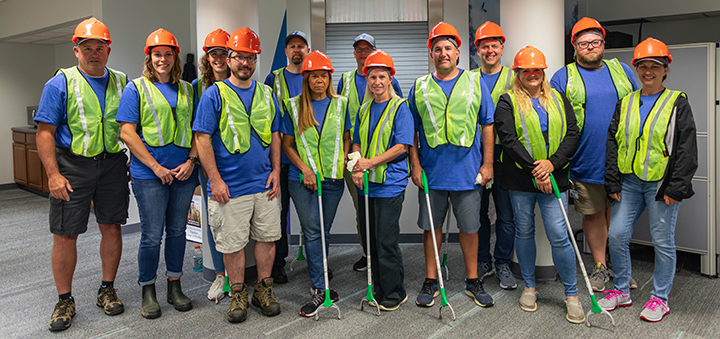 Preferred Mutual Insurance Leadership team showed support to the overall well-being of the New Berlin Community by working with the Adopt a Highway program. They cleaned a two mile stretch along highway 8 with the cooperation of the New York State Department of Transportation. (Photo by Megan Haggerty)
NEW BERLIN — The Preferred Mutual Insurance Company Leadership Team held its conference in New Berlin on Wednesday, September 13.
Preferred Mutual CEO Benedikt Sander said, "The culture of Preferred Mutual is one of community support. Every quarter a corporate conference is held where our managers gather to discuss important community needs and decide how to continually support the the overall well-being of the New Berlin community and its people that live and work in the area."
Sander explained they knew some organizations and got some ideas from people locally where they might be able to help. At the conference were 47 Preferred Mutual managers comprising the team leadership.
"It was a very organic effort trying to figure what we could do for that half day," he added. "To me it has always been important to find organizations to connect with. We've been working with United Way for a long time and other organizations had some projects and hand on opportunities we could support in an afternoon together."
Sander said said he felt encouraged the Preferred Mutual spent a half day assisting important organizations in the community.