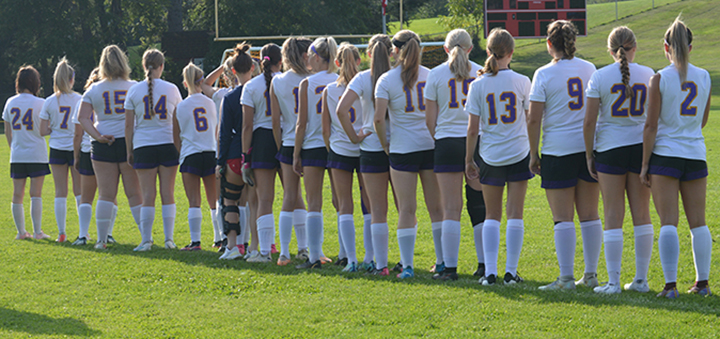 The Unadilla Valley Storm girls' soccer team lines up for the National Anthem against Oxford on Tuesday, September 12. UV handed BG their first loss of the season 3-1 on Thursday. (Photo by Morgan Golliver)
NEW BERLIN – The Unadilla Valley Storm girls' soccer team knew going into Thursday's matchup against an unbeaten Bainbridge-Guilford team would be a challenge, but they were up for it. The Storm raced through to defeat the Bobcats 3-1 on their home field to hand the Bobcats their first loss of the season. UV is off to a strong start in MAC play with wins against Oxford and now B-G and their third win overall (non-league Sherburne-Earlville).
The Storm's Jaiden Schrag scored all three goals in the first half with help from Gracie Gorrell with an assist. Schrag's final two goals came just 30 seconds apart. UV had a total of 14 shots and received four corner kicks. Kalie Fernandez-Naughton made six saves in goal.
B-G's Johnna Henderson was not shut out from scoring on an already dominant season. She scored off a pass from Jayslin Henderson late in the second half. The Bobcats had nine shots and earned six corner kicks. Goalkeeper Danica Park made 10 saves in the loss.
UV (3-1) hosts Delhi on Monday at 4:30 p.m. while B-G (6-1) heads to Oxford on Tuesday at 4:30 p.m.
Full Results:
UV 3 - BG 1
Goals:
UV: Jaiden Schrag 3
BG: Johnna Henderson
Assists:
UV: Gracie Gorrell
BG: Jayslin Henderson
Shots/Corners:
UV: 14/4
BG: 9/6
Saves:
UV: Kalie Fernandez-Naughton 6
BG: Danica Park 10