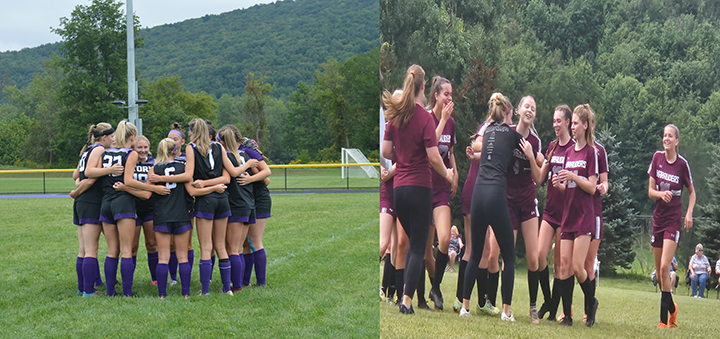 1) The UV Storm girls soccer team huddle up prior to kickoff in the NY Pizzeria tournament championship game. (Photo by Morgan Golliver) 2) S-E's Jalyn McCarthy is surrounded by teammates and coaches after scoring the game-winning goal against GMU in overtime in the tournament consolation game. (Photo by Morgan Golliver)
NEW BERLIN – The Unadilla Valley girls soccer team kicked off the 2023 season with its annual NY Pizzeria tournament over the weekend. Sherburne-Earlville, Gilbertsville-Mount Upton (GMU), and Milford also participated in the tournament. Milford came out on top over UV in the championship game while S-E defeated GMU in overtime in the consolation game.
Friday's games:
UV 7 - S-E 0
In the first round of the tournament held on Friday night, UV defeated the Marauders 7-0. The Storm scored four goals in the first half off the feet of Natalya Schrag, Jaiden Schrag, Adrienne Hodge, and Bella Potter. In the second half, Madison Dix scored her first varsity goal while Jaiden added with her second goal of the day. S-E was held to just one shot on goal. Goalie Savanna Born made 12 saves in the loss.
Saturday's Games:
S-E 1 - GMU 0 F/2OT
After two scoreless halves, the Sherburne-Earlville Marauders and the GMU Raiders battled it out in double overtime. S-E's Jalyn McCarthy found a breakaway and was confident enough to shoot the ball past the GMU goalie for the game-winner.
Milford 3 - UV 1
After winning back-to-back NY Pizzeria tournaments, UV suffers the 3-1 to Milford. Milford led 1-0 at halftime. Shelby Rose scored the Storm's lone goal off a pass from Jaiden Schrag in the loss.
Congratulations to S-E's Clare Barth, Kendall Hill, and Jalyn McCarthy, along with UV's Jaiden Schrag, Bella Potter, and Shelby Rose on their tournament all-star honors.