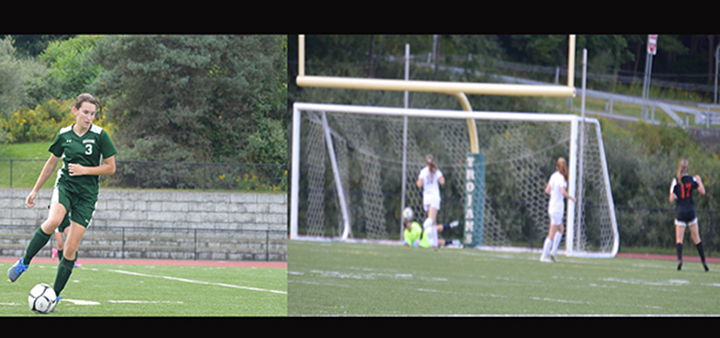 1) Greene's Audra Doll saw some great touches in the 1-0 overtime loss to Newark Valley in the tournament consolation game. (Photo by Morgan Golliver) 2) Oxford's Kayla Figary-Knapp (#17) scores the lone goal off a pass from Taegan Manwarren in the loss to Tioga in the Greene soccer tournament championship game. (Photo by Morgan Golliver)
GREENE – The Oxford Blackhawks and the Greene Trojans girls soccer teams participated in the annual Greene tournament over the weekend, along with Newark Valley and Tioga. On Friday, Oxford defeated Greene 1-0 to advance to the tournament championship in the first MAC league meeting of the season.
The score remained 0-0 until about 10 minutes remaining in regulation. Oxford's Colette Kappauf scored the game-winner with both goalies standing their ground in net. Oxford's Raya Warner and Greene's Molly Cornell both had 11 saves on the night.
Oxford's coach Rachel Seiler was very pleased on how the girls worked well together. She also gave credit to Jayne Fleury and Abby Denz for playing tremendous defense and the offense with a lot of opportunities to score. Cohesiveness came through in the second half for the Blackhawks.
Saturday's Games:
Newark Valley 1 - Greene 0 F/OT
After both teams battled it out through two halves, Newark Valley and Greene went into overtime in the tournament consolation game. Newark Valley scored with 2:54 left in overtime as Greene's Molly Cornell was jammed up with a free side open. Cornell did her best to get to the other end in attempt to block, but the ball already slid in. Greene's Audra Doll and Cali Knapp also saw a lot of touches throughout the game, but couldn't get anything past the Cardinals' goalie.
Tioga 4 - Oxford 1
The Oxford Blackhawks had momentum in the first half with tying the game at one all as Kayla Figary-Knapp took a pass from Taegan Manwarren to score. Oxford couldn't get anything else working for them offensively as they fell 4-1 in a game that was called for lightning with three minutes remaining.
Congratulations to Oxford's Colette Kappauf, Jayne Fleury, and Abby Denz along with Greene's Molly Cornell and Liesl Ludolph for receiving tournament all-star honors.