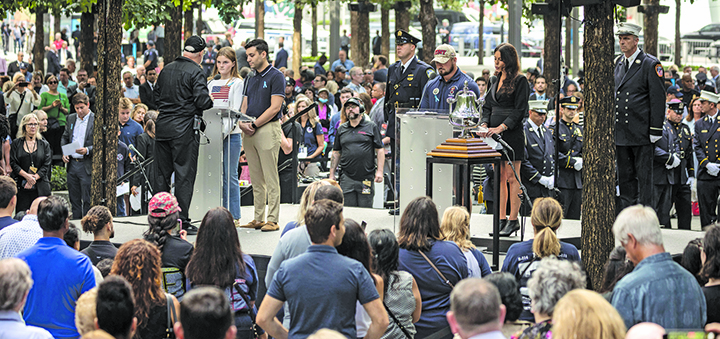 Names of victims are read during the commemoration ceremony on the 22nd anniversary of the September 11, 2001, terror attacks on Monday, Sept. 11, 2023, in New York. (AP Photo/Yuki Iwamura)
CHENANGO COUNTY — Today marks 22 years since the September 11, 2001 terror attacks on the United States of America.
The City of Norwich Fire Chief Jan Papelino said, "9/11 is one of those days, like Pearl Harbor and like the assassination of President Kennedy, etc that we recall exactly what we were doing when we heard the unbelievable news when the first plane struck the first tower."
"That day has changed many things in our day to day lives from airport and airline security to what and how much we can carry when we travel by air along with many other day to day activities," he added.
"Remembering and never forgetting the 2,753 souls that died at the Twin Tower site, the 184 souls at the Pentagon and the 40 souls on Flight 93 that crashed in Shanksville, PA., Papelino said. " Also, remembering those that have passed since due to injuries and illnesses from that day and months following working at the sites and those that are still struggling with illnesses from that work."
"The 343 Firefighters and the 72 Law Enforcement Officers comprised of NYPD and Port Authority Officers died that day carrying out the oath of office they swore to uphold, which they took as public servants and will never be forgotten," he said.