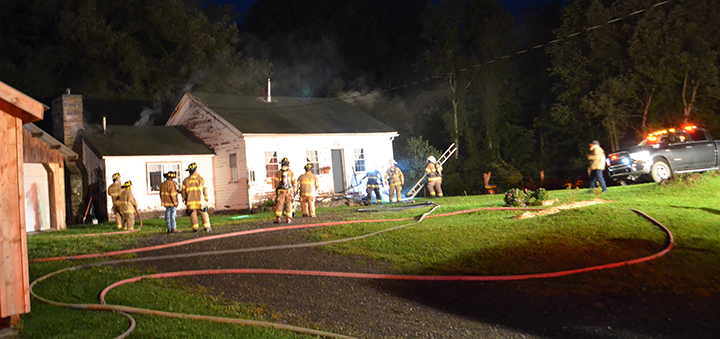 Crews put out a fire at a home in Smyrna caused by a wood stove Thursday night, saving most of the home (Photo by Tyler Murphy)
SMYRNA – Two homes caught fire Thursday night and early Friday morning, waking firefighters from their beds in the northern part of Chenango County, and in Madison County.
The first call came in at about 8 p.m. in the Town of Smyrna and the second at about 3 a.m. in the Town of Lebanon.
Responders were able to save one of the homes but reported the other was engulfed in flames by the time fire crews arrived.
The fire in Smyrna involves a family home on River Road that was using a wood stove to cook when smoke began filling the home and billowing from the roof. Neighbors called 911.
Smyrna Fire Chief Norman Wynn said the first local volunteer on the scene arrived in their own vehicle within minutes of hearing the radio call and gave live updates to the responding fire engines, water tankers and ambulances.
They were also able to communicate with the owners and locate the general source of the fire in advance of crews arriving. Wynn said fire investigators later confirmed the cause and location of the fire.
The upper structure of the home, near the chimney pipe, was generating an alarming amount of smoke outside and inside the home. From the road, flames could be seen licking at the open air from behind the home's upper exterior wall and roof, near the top of the pipe.