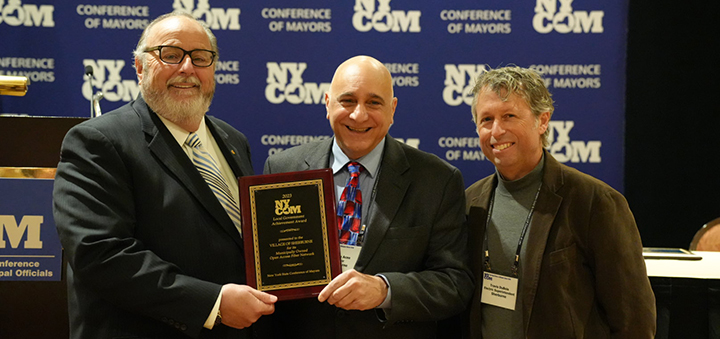 President of NYCOM Mayo Fran Murray, Sherburne Mayor William Acee, and Sherburne Utilities Manager Travis Dubois at the annual NYCOM meeting on May 18. (Submitted photo)
SHERBURNE — The New York State Conference of Mayors (NYCOM) has selected the Village of Sherburne as a winner of NYCOM's Local Government Achievement Awards for 2023. The awards program, in its 33rd year, recognizes Sherburne for its municipally-owned open-access fiber network.
In commenting on the award, NYCOM President Francis Murray, Mayor of the Village of Rockville Centre, stated, "The Village of Sherburne is to be commended for this excellent example of local government being responsive to its constituent's needs. This award recognizes the creative efforts of this fiber network project, which will improve the quality of life for the residents of the Village of Sherburne for years to come. Congratulations to Mayor Acee on this unique and innovative project."
Mayor Acee said, "This project has been on my mind for over 20 years, and to see it finally up and working has been one the most gratifying moments of my life. A ton of credit to goes to the village team for getting this accomplished and in record time."
The Village of Sherburne has built and operates the first municipally-owned open-access fiber network east of Utah and Idaho that serves 1,700 residences and over 90 commercial customers, half of which are located outside the village. The fiber network has the ability for the operation of an open-access broadband system with high-speed, symmetrical broadband. Under this open-access model, the customer is able to choose from multiple internet service providers.
The award was presented at NYCOM's Annual Meeting on May 18 in Bolton Landing. NYCOM represents 574 cities and villages in New York State and has been in existence since 1910.
-Information provided by the Village of Sherburne