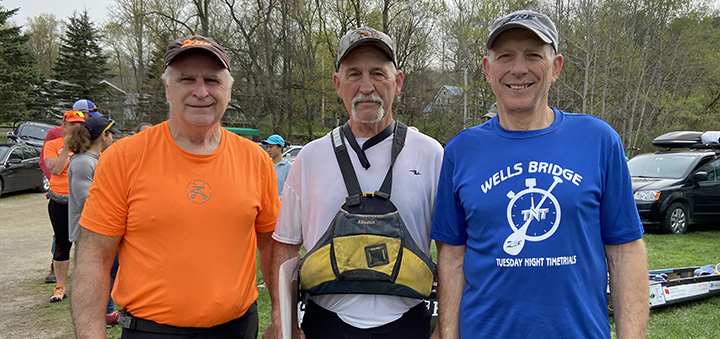 Canoe Legends pose for a photo following Don LaFever's recognition in the Legends Canoe Race. Pictured from L to R: Jeff Schultis, Don LaFever, and Bob Zaveral. (Submitted Photo)
OTSEGO COUNTY – On April 22, Canoe racing legend Don LaFever was recognized for his long time dedication to the sport at the Legends Canoe Race 2023 on the Susquehanna River between Wells Bridge and Otego. LaFever, along with his partner Melissa Swislosky, finished first in the Mixed Stock class and now will be entering the Canoe Regatta on May 28.
Don's canoe racing career began in 1965 the year after his brothers Andy and Jim won the second annual 70 mile General Clinton Regatta from Cooperstown to Bainbridge. Jim had been drafted and was serving in the U. S. Army so Don joined Andy in the next/third Regatta. In 2022, Don completed his 40th Regatta with his nephew Jim LaFever. He has partnered with many area canoe racers as well as Jim, brother Andy and son Scott.
Don has also participated in many races sponsored by the New York Marathon Canoe Racing Association, now named the New York Paddlesport Racing Association, held on lakes and rivers throughout the state. In order to be competitive Don practices with various partners serveral times a week during the spring and summer seasons on area rivers and lakes.
At age 83, Don hopes to become the oldest competitor at this year's Regatta to win one of the 70 mile races.