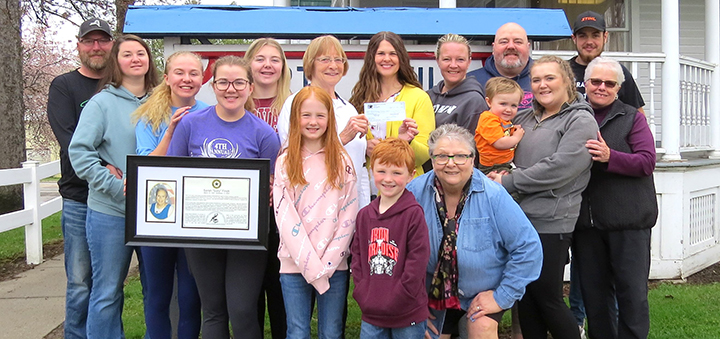 Representing the Finch legacy: (Back row, L to R), Keith/Kelli Finch (grandson/wife) Grace Carpenter (great-granddaughter). [Louise and Courtney] Tiffany/Scott Carpenter (grandson /wife) Dalton Knudson. (Front row, L to R) Jocelyn/Jillian Finch, Kenzie/Kolton Finch (great-granddaughters and great-grandson), Connie Finch McGowan (daughter), Brantley Knudson (great-great grandson), Kelsey Carpenter (great-granddaughter), and Sharon Finch Carpenter (daughter). (Center back, L to R): Louise Spicer, ALA Unit 376 president, presented a $600 donation for books to Courtney Emerson of the Oxford Academy Primary School. (Photo by Jeanie Petersen)
OXFORD — The Fort Hill American Legion Auxiliary (ALA) Unit #376 held their annual benefit Harvest Dinner this past October to raise money for the Finch Book and Education Fund.
At the April 23 Post 376 Sunday Community Breakfast, president Louise Spicer presented a donation check for $600 to Courtney Emerson on behalf of the Oxford Academy Primary School. The donation is for the purchase of books for the elementary students to promote literacy.
Annually, proceeds from the ALA Unit 376's Harvest dinner are used for the Finch Book and Education Fund, named after Sarah "Sally" Finch, a once proud member of the American Legion Auxiliary. Under Sally's direction, to promote literacy in the community, the Oxford Auxiliary decided to start a book fund in the fall of 2000 with proceeds from their annual Harvest Dinner.
After Sally passed away in December of 2003, the Auxiliary changed the name to honor her. This memorial fund provides books for the Oxford Academy Primary School students. To date, Unit 376 has donated well over $7,000. The Legion Auxiliary wishes to thank all of those who generously contributed to this good cause.
ALA Unit 376 is also involved in other community and youth activities, such as Empire Girls' State; nursing homes; Christmas Community Baskets, food and clothing banks; education; charities; the paper Memorial Day poppies, their annual, and upcoming, Cinco de Mayo dinner; fundraisers for their Unit 376 Scholarship; and more.
For membership inquiries, contact Jeanie Petersen at 607-843-2121 or email Events@OxfordNY.com.
ALA Unit 376 usually meets on the second Tuesday each month at 6:30 p.m. in the dining hall of the Fort Hill Legion. The historic Oxford American Legion, Fort Hill Park, Post #376, is located at 17 S. Washington Avenue.
For more information visit their website at oxford-ala.chenango.org or call the Legion Post at 607-843-8166.