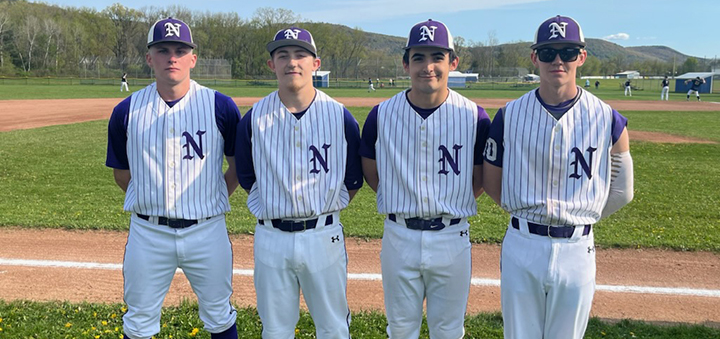 Norwich honored its 2023 seniors in the 7-2 victory over Sus Valley. Congratulations to Trent Marinelli, Trey Bates, Nick Ragonese, and Nate Murphy. (Submitted Photo)
NORWICH – It was a great evening for the Norwich baseball team to celebrate the 2023 seniors on Monday. Norwich proudly picked up their second win of the season 7-2 against Sus Valley, where they looked very sharp defensively and on the bases.
Prior to the start of the game, Norwich honored its four seniors; Trent Marinelli (Unadilla Valley), Trey Bates, Nick Ragonese, and Nate Murphy. Congratulations and best of luck to each of you.
Norwich got on the board early with a 2-0 lead and added on with two more runs in the bottom of the second inning to grab a 4-1 lead. Sus Valley scored another run in the third inning as the lead-off batter tripled and scored on the next ground-out.
Otherwise, the Norwich defense held their own and were dominant. The Purple Tornado even forced the Sabers to ground into double plays to hold their lead.
Norwich tacked on insurance runs in the fifth and sixth innings before Trey Bates closed out the game with a strikeout and two groundouts.
Even though Norwich only hit the ball three times through seven innings, they had tremendous base running and fed off Sus Valley's mistakes. Two runs were driven in by Nick Ragonese and Zack Parker while Colin Olds had a RBI on a sacrifice fly.
Bates pitched a complete game on the mound in the win. He allowed two runs on five hits, walked three batters, and struck out five.
With hard work paying off on senior night, Norwich looks to remain confident on the road against Johnson City on Wednesday at 5:30 p.m.
Box Score:
Runs by Inning: R H E
SV:
0-1-1-0-0-0-0 2 5 3
Norwich:
2-2-0-0-1-2-X 7 3 2