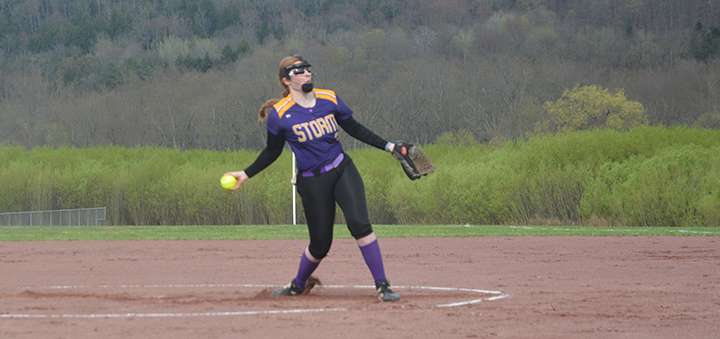 UV's pitcher and S-E student Haleigh Fisher records her 100th strikeout in just nine games played. She struck out 15 in the win over Harpursville. This photo was taken at a previous game. (Photo by Morgan Golliver)
NEW BERLIN – After a late victory over Sidney on Thursday, the Unadilla Valley Storm softball team were eager to keep things rolling against Harpursville. UV won 13-12, again with a late rally in the bottom of the seventh. This time, they were behind 12-10 and scored three runs to win it, including the game-winning run on a dropped third strike that only made the second out.
UV held a close 6-5 lead after scoring four runs in the bottom of the second inning, but Harpursville erased it with a six-run fifth inning to take the lead. UV continued to fight back in the fifth and sixth innings before their strongest efforts in the seventh with the game on the line.
The Storm was led by Haleigh Fisher, who was phenomenal at the plate and mound. At the plate, she went 3-for-5, including bringing home the game-tying run on an RBI single and scored the game-winning run in Bella Jones' at-bat. On the mound, she achieved 100 strikeouts- striking out 15 batters in the win. Fisher achieved this accomplishment from her time with the Sherburne-Earlville softball team before joining the Storm this season and starting in each of the nine games played, which also includes two no-hitters.
Teammates Adrianna Allen and Shyla Roberts both contributed with multiple hits in the win and Allen drove in two runs. Pyper Kneale and Kadence York also provided the offense with a hit in their three plate appearances.
UV currently sits behind B-G in the MAC standings with a 7-2 record. UV travels to Unatego on Tuesday for a game expected to start at 4:30 p.m.
Box Score:
Runs by Inning: R H E
Harpursville:
0-1-2-2-6-0-1 12 8 10
UV:
1-4-1-0-3-1-3 13 9 8