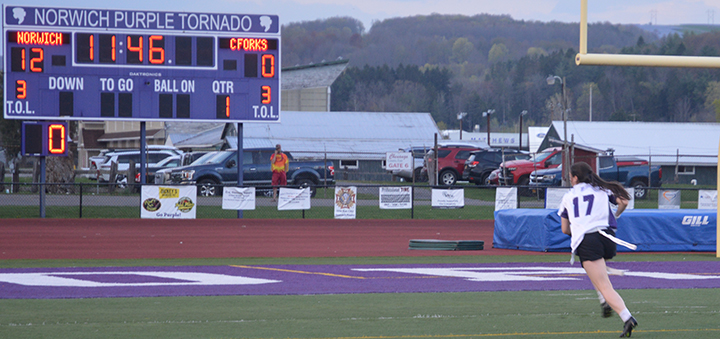 Norwich's Sarah Davis scores to put the Purple Tornado up 18-0 with less than 12 minutes to go until halftime. Davis scored two touchdowns as Norwich defeated Chenango Forks 38-6. (Photo by Morgan Golliver)
NORWICH – Flag Football is back as a official championship sport in 2023 after a trial run in 2022. Norwich hosted Chenango Forks for their second game of the season after a big 55-0 win against Windsor. The Norwich Purple Tornado took down the Forks Blue Devils 38-6 on Friday night.
Norwich received the ball first and quickly drove the ball down the field, where Sarah Davis scored her first of two touchdowns on the evening. The Purple Tornado stopped Forks to get the ball back where Cameron Van Houten found Emma Urgo for a long pass.
Norwich took a 20-0 lead at halftime after earning a safety on defense. Norwich's punt landed on Chenango Forks' one yard line that set up a sack by Josey Ryan to earn the two points and get the ball back on offense. Ryan was fierce on defense throughout the entire contest. She also scored a touchdown on the first Norwich possession of the second half.
Forks scored late in the second half as they were finally able to run the ball down the field to catch Norwich's strong defense off guard.
Norwich (2-0) is coached by Jeff Parker and Jake Llewellyn this season. The Purple Tornado heads to Sus Valley on Wednesday at 6 p.m.