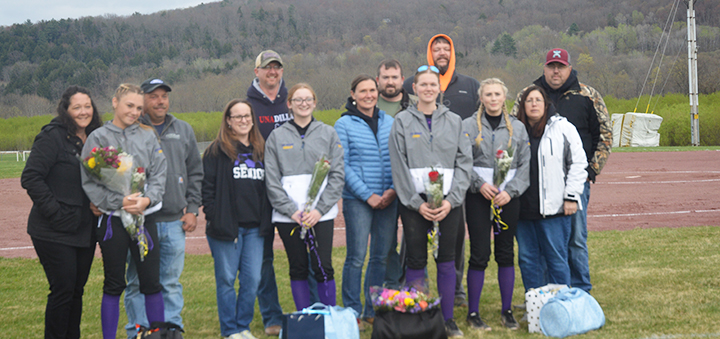 The Unadilla Valley Storm softball team honored its class of 2023 seniors prior to the game vs Delhi/Downsville. Congratulations to Kadence York, Pyper Kneale, Bella Jones, and Kailee Figger. (Photo by Morgan Golliver)
NEW BERLIN – Coming off a shutout victory against Oxford, the Unadilla Valley Storm softball team welcomed Delhi/Downsville for their 2023 home opener. The Storm also celebrated senior night prior to the game. Kadence York, Pyper Kneale, Bella Jones, and Kailee Figger were honored for their dedication and commitment to the Storm softball program.
The Storm gave their seniors something to celebrate as they defeated Delhi/Downsville 5-3.
The Bulldogs took an early 1-0 lead in the first as a batter reached on a dropped third strike, advanced in scoring position, and scored on a ground-out RBI.
UV answered back in the bottom half of the same inning to tie the game. Pyper Kneale and Haleigh Fisher started off with back-to-back doubles. Kneale got caught stealing, but Fisher came in to score off a two-out RBI single by Shyla Roberts.
UV went ahead 2-1 in the second inning on an RBI single from Kneale, who led the team with two hits on the day. Delhi tied the game in the fourth as a batter scored on a wild pitch.
UV scored their final three runs tin the bottom of the fifth inning to secure the victory . One run came off a mishap by the Bulldogs defense before Shelby Rose brought in two runs on a two-out double.
Delhi scored once more in the bottom of the seventh on a wild pitch as UV's Haleigh Fisher pitched a complete game one-hitter. She also struck out 13 batters and only walked one.
UV improves to 3-1 and hosts Walton on Friday afternoon at 4:30 p.m.
Box Score:
Runs by Inning: R H E
D/D:
1-0-0-1-0-0-1 3 1 3
UV:
1-1-0-0-3-0-X 5 6 1