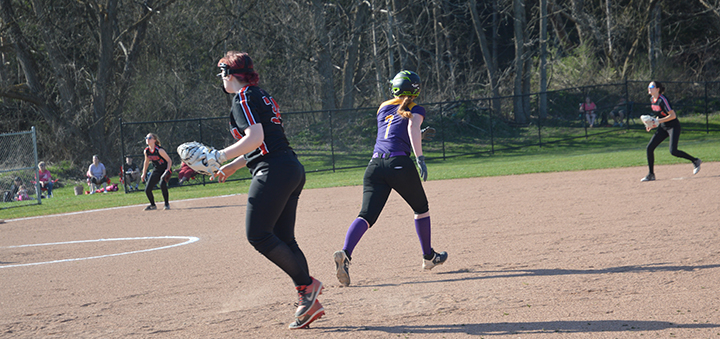 UV's Haleigh Fisher (#7) reached base and scored four times in Thursday's win vs Oxford. In the fourth inning, she hit a home-run that went over the fence in left field. She also pitched a no-hitter on the mound. (Photo by Morgan Golliver)
OXFORD – After falling short to Bainbridge-Guilford in their last game, the Unadilla Valley Storm softball team faced Oxford, picking up a 14-0 shutout victory. UV starter Haleigh Fisher pitched five complete innings, where she struck out 13 batters and gave up no hits.
Fisher, who was a member of the Sherburne-Earlville softball team a year ago, was appreciative of joining the Storm this year as a junior and is proud to have earned this accomplishment.
Fisher also reached base and scored four times in her at-bats. In the fourth inning, she sent a deep fly ball over the left field fence for a solo home-run. Fisher, along with Bella Jones (three hits), and Kailee Figger, racked up multiple hits for the Storm. Figger led the team with two RBIs in the win.
Oxford did reach base twice in the loss. In the third inning, Emmalee Reiss bunted a ball towards Bella Jones at catcher. Jones could not play the ball and thought it was fouled. The next batter, Olivia Barbosa reached on a wild pitch, off a dropped third strike with two outs. Reiss, who at the time was at third base, tested the UV defense by attempting to score on a passed ball. However, Jones was able to retrieve the ball and make a nice tag to close out the inning.
On the mound, the Blackhawks' Naiomi Smith struck out five batters. Oxford, who falls to 0-2 to start the season, will travel to Greene on Monday for a 4:30 p.m. start.
UV (2-1) heads to Unatego on Monday at 4:30 p.m.
Box Score:
Runs by inning: R H E
Unadilla Valley
4-2-0-2-6-X-X 14 11 1
Oxford
0-0-0-0-0-X-X 0 0 4