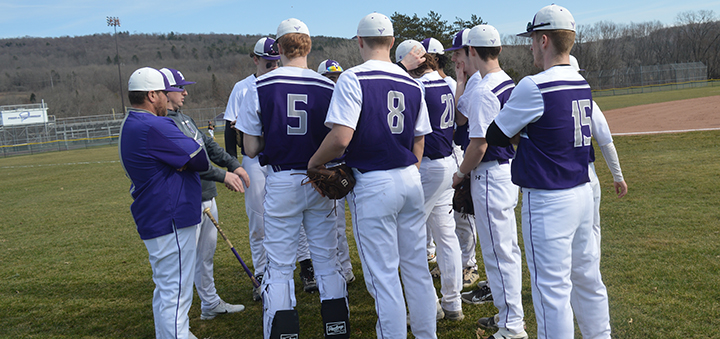 The Norwich Purple Tornado Baseball team huddles up prior to the home opener against Windsor on Monday. Norwich fell on the road to Oneonta in the second game of the season Wednesday. (Photo by Morgan Golliver)
ONEONTA – The Norwich Purple Tornado baseball team traveled to Oneonta on Wednesday, where they fell in their second game of the season in a hard 14-5 deficit.
Oneonta got on the board in the second inning with a 2-0 lead. Norwich answered back in the fourth inning and tied the game.
Nick Ragonese grounded out with Kaden Downey in scoring position for the first run of the game. Trey Bates brought in the tying run with an RBI double to score Colin Olds.
After a better start for the Tornado, Oneonta took control in the bottom half of the fourth with seven runs. The Yellow Jackets were able to produce multiple hits with one run scored off a wild pitch.
Norwich got one back in the sixth inning after Oneonta tacked on five more runs. The Purple Tornado scored one final run in the seventh off Graham Burton's RBI single.
Overall, Oneonta outhit Norwich 14-5. Trent Marinelli, Kaden Downey, Trey Bates, Braden Reid, and Graham Burton all had one hit each for Norwich in the loss.
Braden Reid earned the start on the mound and went four innings before Trent Marinelli moved from the shortstop position to finish the game in the bottom of the fifth.
Norwich (0-2) heads to Bainbridge for a non-league matchup against the Bobcats (1-0) on Saturday morning at 11 a.m.
Box Score:
Runs by Inning R H E
Norwich
0-0-0-2-0-1-2 5 5 3
Oneonta
0-2-0-7-5-0-X 14 14 2