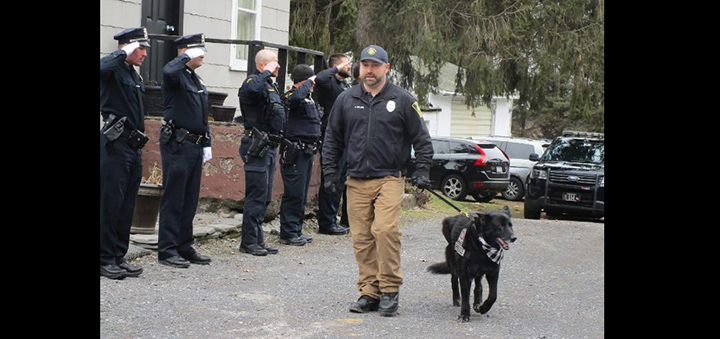 K-9 police dog Nitro served the Norwich Police Department from 2011 to 2016 with her handler Officer Thomas Miller. On Monday, March 27, Nitro was given a police procession that included the Norwich Police Department and several other agencies, before she was laid to rest in Manlius, NY. (Submitted photo)
NORWICH — It is with a heavy heart that the Norwich Police Department recognizes the passing of their former K-9 police dog, Nitro. Nitro served at the Norwich Police Department from 2011-2016 with her handler, Police Officer Thomas Miller.
Many of Nitro's tasks involved drug interdictions, tracking and community outreach.
Nitro was involved in the Norwich community for five years and attended events at the YMCA, UHS/Lourdes Hospital Childrens Center, and even an Art/Paint/Sip meet.
On Monday, March 27, Nitro was laid to rest in Manlius, NY at the age of 15 years old, after having endured hip dysplasia. Numerous agencies, including the Norwich Police Department, attended the sendoff, with her passing by the procession before entering the veterinary clinic.
"Nitro was and will always be the best partner I've ever had. She was more than a partner to me, she was a family member," reported Miller, who is now a police officer for the City of Syracuse.
The Norwich Police Department is working closely with Miller and his family to honor Nitro and her legacy.
"We are looking into grants and funding to create a K-9 position at the police department, " said Norwich Police Chief Reuben Roach.
-Information provided by the Norwich Police Department