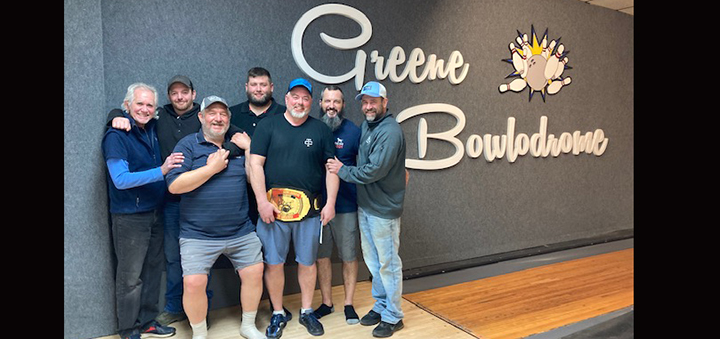 The top five bowlers pose for a photo following the Greene Bowlodrome's Mixed Scratch Tournament. Pictured: Owner Byron Miller, Matt Carr, Carl Pratt, Justin Fuller, Corey Simpson, Nate Breese, and Owner Sean Miller. (Submitted Photo)
GREENE – With bowling season winding down, the last house tournaments have finished at the Greene Bowlodrome. The Mixed Scratch Tournament was held Saturday, March 25 with 21 bowlers participating.
Corey Simpson defeated Nate Breese 258-228, in the finals to capture this year's crown, his first, at the Greene Bowoldrome.
In the roll-offs, fourth-seeded Matt Carr defeated fifth-seeded Justin Fuller 222-187. Matt was then defeated by third-seeded Nate 238-214.
Second seeded Carl Pratt Jr. was defeated by Nate 215-179. Nate advanced to the final round, where he was defeated by first-seeded Corey 258-228.
Thank you to all that attended and supported the bowlers.
-Information from the Greene Bowlodrome