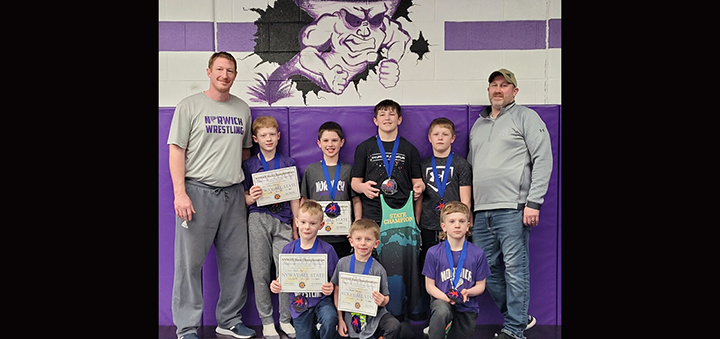 The Norwich Pee Wee Wrestlers pose for a photo after competing at States. Pictured standing back row from left to right are Coach Matt Telesky, Drew Telesky (2nd place), Lucas Button (4th place), Kolden Downey (1st place), Kellen Downey (5th place), and Coach David Schuster.  Kneeling from left to right are Connor Alger (3rd place), Bowen Durgala (4th place), and Bennett Black (6th place).  Not pictured is Kamden Redenback. (Submitted Photo)
SYRACUSE – Last weekend, the Norwich Pee Wee Wrestling Program had eight wrestlers compete in the NYWAY State Championships held at the Expo Center in Syracuse, NY.  Seven wrestlers went on to place in the top six, earning All-State honors.  
Coach Telesky and Coach Schuster are proud of all the wrestlers and pleased with everyone's performance!  The coaches, wrestlers, and parents would like to thank the City of Norwich Youth Bureau for their continued support of this program.
Congratulations everyone!
-Information from the Norwich Pee Wee Wrestling Program