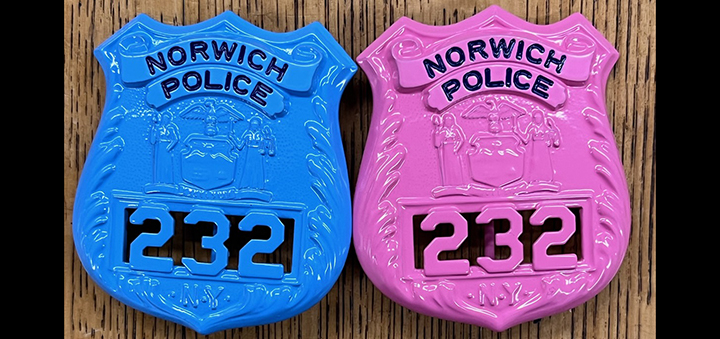 During the month of April, Norwich Police Department officers will wear blue badges in recognition of Autism Awareness Month, and will recognize Breast Cancer Awareness Month with pink badges in October. (Submitted photo)
NORWICH — On April 13, 2023, the Norwich Police Department will be celebrating their 123rd anniversary as a police department, and the officers wanted to commemorate this event by showing their solidarity with those who are affected by autism and breast cancer.
In the month of April, Norwich Police Officers will be wearing blue badges in recognition of Autism Awareness month, and they will wear pink badges during the month of October, in recognition of Breast Cancer Awareness month.
The initiative was started by Police Officer Keith Leigh and Sergeant Steven Rounds of the Norwich Police Benevolent Association (PBA) last year, and the badges were 100 percent funded by donations to the PBA.
"I'm proud of my officers for taking on this initiative," said Chief Reuben Roach. "There isn't an officer in the Norwich Police Department who hasn't been directly affected by autism or breast cancer, myself included."
Roach lost his aunt over 30 years ago to breast cancer, and said it has had lasting effects on his family.
The Norwich PBA continues to raise funds for scholarships, non-profit organizations, and community giveback events.
-Information provided by the Norwich Police Department