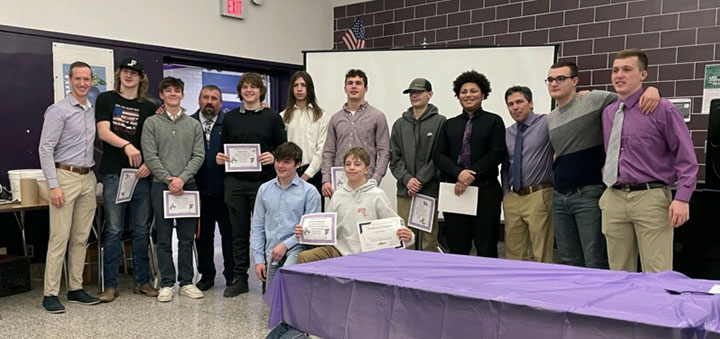 The Norwich Purple Tornado Wrestling team celebrated its end of 2022-2023 season on Tuesday evening. Congratulations to Robert McIntyre, Nate Murphy, Matt Allen, Yanni Drapaniotis, Mason Edwards, Maverick Beckwith, Nikko Derensis, Cyrus Graham, Evan Heath, Aidan Hernandez, Evan Meek, Garrett Powers, Braden Reid, and Regan Roach. (not in order) Along with Coaches Bob Hagenbuch, Luke Marvin, and Garrett Sylstra. (Submitted Photo)
NORWICH – On Tuesday, the Norwich Wrestling team celebrated its 2022-2023 end of season banquet, where they handed out awards and shared memories from the year. The team had three wrestlers represent Norwich at the NYSPHSAA State Tournament this season with Maverick Beckwith coming away with a third place finish, Mason Edwards with a sixth place finish, and Yanni Drapaniotis making an appearance in the 145 weight class.
Maverick competed in the 102 weight class this year and held the most wins with 36 as only an eighth grader. He also received the team's most outstanding award. Mason led the team with the most pins this season in the 172 weight class with 20 and received the most valuable wrestler award to conclude his final season. Yanni finished his freshman year with a 27-10 record and was honored with the Coach Don Kovachik award.
Other Awards, such as the most improved went to junior Braden Reid while fellow teammate Regan Roach received the most dedicated. Roach, along with Edwards and Drapaniotis, also earned scholar-athlete achievement for earning a 90 or above GPA.
Congratulations to all wrestlers and good luck to the three seniors; Mason Edwards, Robert McIntyre, and Nate Murphy.