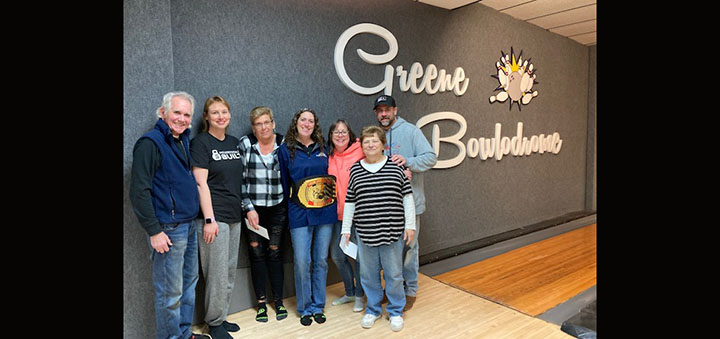 The top five bowlers pose for a photo with owners Byron and Sean Miller. Pictured left to right: Byron Miller, Jen Gould, Donna McGrath, Steph Swift, Nora Erceg, Sue Buckland & Sean Miller (Submitted Photo)
GREENE – With bowling season winding down, the end-of-year house tournaments have begun at the Greene Bowlodrome.
The Women's Handicap Tournament was held on March 18 with 21 bowlers participating.
Stephanie Swift defeated Sue Buckland in 221-213 in the finals to capture this year's crown, her first at the Greene Bowoldrome.
In the roll-offs, fourth-seeded Nora Erceg defeated fifth-seeded Jen Gould 256-220. Nora then was defeated by third-seeded Donna McGrath 281-198.
After the win over Nora, Donna fell to second-seeded Sue 217-204. Sue advanced to the final round, where she lost to first-seeded Steph Swift 221-213. This is Steph's first championship with the Greene Bowlodrome.
Thank you to all that attended and supported the bowlers.
The Mixed Scratch tournament on Saturday March 25, starting at 1 p.m.
-Information submitted by the Greene Bowlodrome