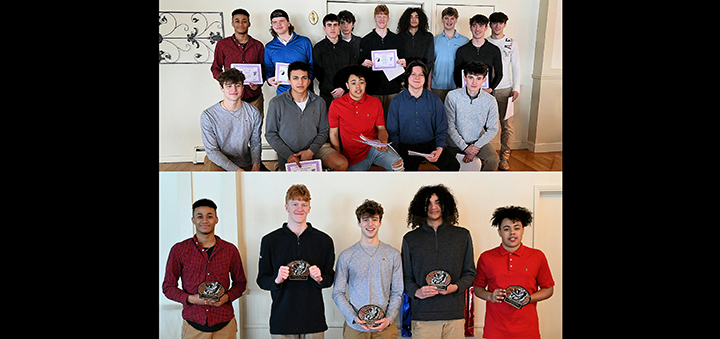 1) The 2022-2023 Norwich Boys Basketball Team pose for a picture at the end of season banquet. The players are holding their certificate of achievement, earned following the completion of the season. Pictured: Back row- Jerell Stokes, Damien Kane, Wyatt Thornton, Jackson Sastri, Colin Olds, Jerome Palen, Zak Myers, Steven Dowdall, Mitchell Collins. Front Row (L to R): Kaleb Turner, Anthony Ragonese, Carmello Ithier, Anthony Pomares, and Jacob Morris. (Photo by Tracie Vinal) 2) The Norwich Boys Basketball team end of season award winners. Pictured (L to R): Jerell Stokes (MVP), Colin Olds (Best Defensive), Kaleb Turner (Senior Leadership), Jerome Palen (Most Improved), and Carmello Ithier (Purple Pride award). (Photo by Tracie Vinal)
NORWICH – The Norwich Purple Tornado Boys Basketball team celebrated its end of 2022-2023 season banquet over the weekend, where individual awards were handed out and lasting memories of the season were shared. The team also honored its four seniors; Kaleb Turner, Damien Kane, Jerell Stokes, and Anthony Ragonese for the final time.
Norwich had some fond memories this season with winning the UV Holiday Basketball Tournament with wins over Greene and neighbors Sherburne-Earlville. They also picked up crucial wins over Sus Valley and Vestal towards the end of the season, but just missed Sectionals.
A Norwich team that can only come back stronger next season and will have to do so without Turner, Kane, Stokes, and Ragonese.
Congratulations to the everyone and good luck to the seniors.
The award winners, voted on by teammates:
Jerell Stokes- Most Valuable Player and Athletic Achievement Award
Colin Olds- Best Defensive Player
Kaleb Turner- Senior Leadership and Kurt Beyer Student Athlete Award
Jerome Palen-Most Improved
Carmello Ithier- Purple Pride Award
Other Senior Awards:
Damien Kane-Tornado Pride Award
Anthony Ragonese-Tornado Persistence Award
Scholar-Athletes:
Team- 75 % of roster had GPA of 90.03
Mitchell Collins
Kaleb Turner
Carmello Ithier
Damien Kane
Anthony Pomares
Steven Dowdall
Anthony Ragonese