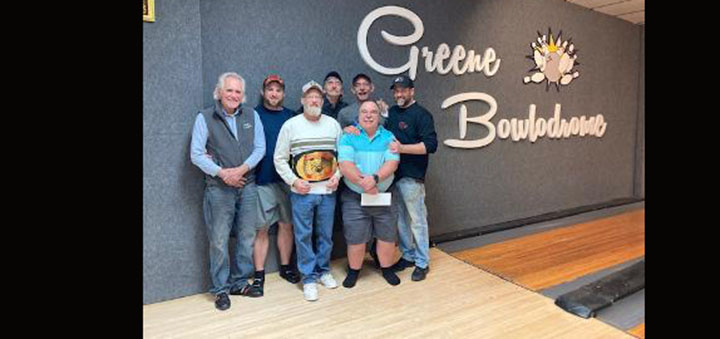 Top five bowlers, pictured left to right: Byron Miller, AJ Swift, Kevin Juraska (winner), Ralph Goodrich, Rob Fiester, Jim Milk and Sean Miller (Submitted photo)
GREENE – With bowling season winding down, the end-of-year house tournaments have begun at the Greene Bowlodrome.
The Men's Handicap Tournament was held March 11 with 25 bowlers participating.
Kevin Juraska defeated Ralph Goodrich 244-217 in the finals to capture this year's  crown, his first at the Greene Bowlodrome.
In the roll-offs, fifth-seeded Rob Fiester lost to  fourth-seeded AJ Swift 222-204. AJ then defeated third-seeded Jim Milk 229-199.
But, AJ was defeated by second-seeded Ralph 219-206, putting Ralph up against first-seeded Kevin. Kevin took home the final win 244-217. 
Thank you to all that attended and supported the bowlers.
NEXT: The Women's Handicap  is this Saturday, March 18  and Mixed Scratch tournament the following Saturday, March 25.  Both tournaments will start at 1 p.m.
-Information from Greene Bowlodrome