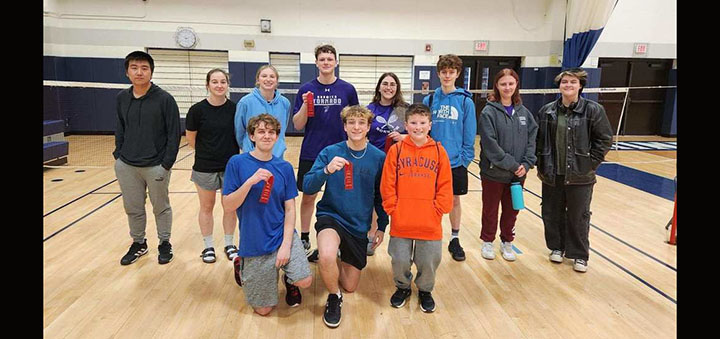 The Norwich Badminton/Table Tennis team celebrating its four members; Donovan Gillen, Grayson Boyer, Emma Brooks, and Aleks Smietana, who earned second place ribbons in their respective events. (Photo from Norwich CSD)
BAINBRIDGE – On Saturday, Bainbridge-Guilford High School hosted the 2023 Section IV Badminton/ Table Tennis Championship. The Championship featured nine teams with 88 athletes.
Sidney was crowned the 2023 Larry Hynes Section IV title and scored a high of 30 points with B-G coming in second with 22 points. Norwich finished fifth while Afton achieved one point for seventh and Greene in ninth. Waverly earned the Jody Hughes Sportsmanship award following the event.
Other notable awards, such as the Paul Girolamo Award for the outstanding Badminton female and male player went to BG's Celeste Baldwin and Garrett O'Hara. BG's Easton Porter earned the George Williams Award for the male outstanding table tennis player.
Congratulations to all athletes.
Below are the names of the athletes from Chenango County and their placement;
Badminton
Girls Singles:
4th place- Joopfy Ma-un (Bainbridge-Guilford)
Boys Doubles:
2nd-Donovan Gillen/Grayson Boyer (Norwich)
4th-Arshdeep Singh/Gavin Gifford (B-G)
Girls Doubles:
3rd-Gabriella Cuozzo/Jayslin Henderson (B-G)
Mixed Doubles:
1st-Celeste Baldwin/Garrett O'Hara (B-G)
2nd-Emma Brooks/Aleks Smietana (NOR)
Table Tennis
Boys Singles:
1st-Easton Porter (B-G)
Girls Singles:
3rd-Lainele Baldwin (B-G)
4th-Maria Romero (Afton)
Boys Doubles:
1st-Brock Porter/Julian Pruskowski (B-G)
Girls Doubles:
3rd-Kaitlyn Curtis/Jordyn Parsons (B-G)
Mixed Doubles:
3rd-Aubrey Surplus/Blake Tuttle (B-G)