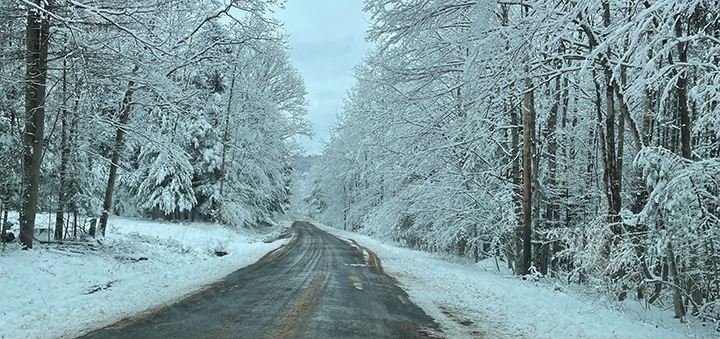 Friday's snow storm dropped heavy, wet snow over the area. A more severe storm is expected to hit Monday through Wednesday with a possibility of 18 inches or more. (Photo by Cindy Tiley)
CHENANGO COUNTY – March has turned into a lion of winter weather with forecasts warning of a predicted Monday to Wednesday nor'easter snowstorm could leave more than a foot of snow blanketing the area.
According to the National Weather Service in Binghamton the storm could be the one of the worst of the season, with wet snow, rain and strong wind accompanying the storm. The weather is expected impact the area heavily on Tuesday with up to 2 inches of snow accumulation per hour at its peak, and could last into early Wednesday morning.
Norwich is expected to receive up to 18 inches of perception in the next day or so, according to the weather service Monday morning.
Winds of up to 50 miles per hour are possible and local travel and power outages are expected.
Public officials are urging caution and some local organization have began to take preemptive steps.
Stay tuned to the Evening Sun on Tuesday for the latest updates.
Due to the expected severe weather, some deliveries of the Evening Sun and Pennysaver could be temporarily disrupted Tuesday. Please visit evesun.com for any new information.