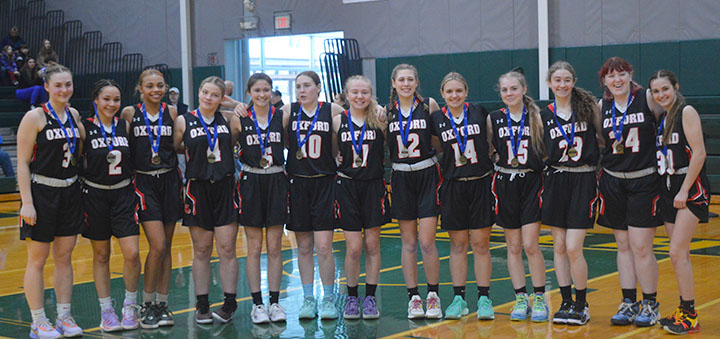 The Oxford Lady Blackhawks pose with their medals after winning the Section IV, Class D Championship. They will face Smithtown Christian on Saturday in the State Regionals. (Photo by Morgan Golliver)
BINGHAMTON – After winning the Section IV, Class D championship last Saturday, the Oxford Lady Blackhawks have advanced to the NYSPHSAA state regionals. They received a bye in the subregionals due to there not being a section one team to face.
So, they've been actively preparing to face their next opponent who will be Smithtown Christian out of section 11. Smithtown Christian defeated section nine's Webutuck 36-28 in the subregionals on Tuesday.
The Blackhawks and the Knights will square off on Saturday at noon from the Visions FCU Memorial Arena in Binghamton. Tickets must be pre-purchased online at GOFan.co under Section IV Athletics and Regionals. Each ticket costs $10.45 and is good for all four games being played throughout the day.
If you can, please come out and support your Oxford Lady Blackhawks. If you cannot make it, WCDO's Nate Lull will be broadcasting the game live on 100.9 FM.
Good luck Blackhawks.