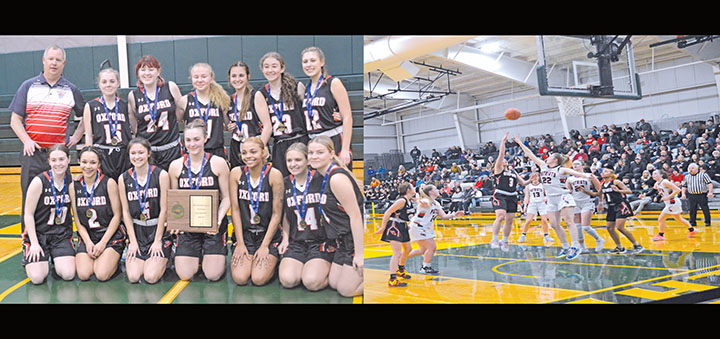 1) The Oxford Lady Blackhawks are the 2023 Class D Sectional Champions! Congratulations to Coach Chris Palmer and the Oxford Blackhawks coaching staff, Naiomi Smith, Kyla Kelsey-Jones, Madalyn Barrows, Kadence Gallo, Taylor Smith, Ella Kelsey, Jocie Finch, Ava Benjamin, Bailey Chesebro, Abi Denz, Lizzy Knapp, Leah Oliver, and Taegan Manwarren. (Photo by Morgan Golliver) 2) Madalyn Barrows led Oxford with 20 points in the win over Cherry Valley-Springfield in the sectional championship. (Photo by Morgan Golliver)
DELHI – It was an exciting afternoon for the Oxford Lady Blackhawks on Saturday. They came away with a 38-36 victory over Cherry Valley-Springfield in the Class D Sectional Championship. A full crowd of dedicated fans who traveled to SUNY Delhi will now see the Blackhawks play in states for the first time since 2003.
Chris Palmer and his team had an impressive run to get to the championship game, knocking off GMU, South Kortright and Southern Cayuga after losing the division to Greene.
Oxford only trailed after the first quarter as CV-S took a brief 10-8 lead. Oxford was full of confidence with the help of Madalyn Barrows's 14 points in the second quarter and took a 26-15 lead at halftime. Barrows scored a team-high of 20 points in the win.
The Blackhawks also lead the charge on defense, picking up 17 steals on the afternoon, even though they were out-rebounded 48-26 throughout the contest. CV-S excelled with offensive rebounds and off Oxford's misses in the second half, taking away the big lead late in the game.
CV-S cut the lead to one in the final 30 seconds of the game. A crucial travel was called on Oxford, giving the Patriots the ball, but they had failed to tie or even take the lead. Naiomi Smith made the final free-throw on the last possession for the Blackhawks, which gave CV-S one more chance with five seconds left. But the final shot missed, sending Oxford in celebration mode with a roaring crowd.
Oxford will await their next opponent, but know that the next game will be Saturday, March 11. It was rumored to be played at the Visions Memorial Arena in Binghamton, but location is not yet confirmed. Please check the Oxford Academy social media platforms for more information.
Scores by Quarter:
OX 8 18 9 3—38
CV 10 5 9 12–36
OX: Madalyn Barrows 20, Ella Kelsey 8, Jocie Finch 5, Taegan Manwarren 2, Abi Denz 2, Naiomi Smith 1.
CV-S: Joleen Lusk 12, Brin Whiteman 8, Mia Dubben 7, Morgan Huff 5, Lydia Lusk 2, Daphnee West 2.
Three-Pointers: OX 3 (Barrows 2, Finch); CV-S 1 (Whitman)