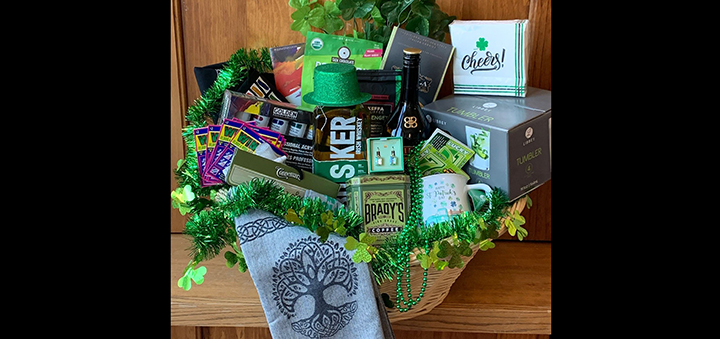 Tickets are available now for the Earlville Opera House's annual St. Patrick's Day Raffle Basket. Tickets are $5 a piece or five tickets for $20, and can be purchased at EarlvilleOperaHouse.com. Proceeds will support the programs and services of the EOH. The drawing will take place at 5 p.m. on March 12, and purchasers do not need to be present to win. (Photo from the EOH Facebook page)
EARLVILLE — Earlville Opera House (EOH) invites you to press your luck by purchasing tickets to our annual St. Patrick's Day Raffle Basket. Tickets are only $5 or five for $20 with proceeds supporting the programs and services of EOH. The drawing is on March 12 at 5 p.m., purchasers need not be present to win. Get your tickets now at EarlvilleOperaHouse.com.
This Basket O' Treasure contains: A bottle of Busker whiskey; a bottle of Baileys Original Irish Cream; Brady's Celtic Blend Coffee; Serengeti Specialty Coffee from African Family Farms; Bella Jack Green Crystal Earrings; Irish Mug by Corrine Haifa Designs; Connemara Pashmina Scarf, made in Dublin, 80 percent cotton, 20 percent silk; Golden Artist Colors Acrylic Paint Set, apron, t-shirt and folder materials; Four-piece glass tumbler set; DiBella pistachio cranberry biscotti, Taza dark bark organic chocolate thins; and $50 worth of scratch lottery tickets — a value of over $500!
Earlville Opera House Arts Center is located at 18 East Main Street in the charming Village of Earlville, NY and is handicap accessible. Masks are required other than when eating or drinking due to no ventilation in the 1892 venue.
Please check our website for the latest COVID protocols, and for further information on our programs and services, and like us on Facebook and Instagram!
Events are made possible, in part, with public funds from New York State Council on the Arts with the support of the Office of the Governor of New York and the New York State Legislature, and through the generosity of EOH members.
Many thanks to Nazzitto's Wines & Liquors and to Golden Artist Colors for their support of this fundraiser.
-Information provided by EOH