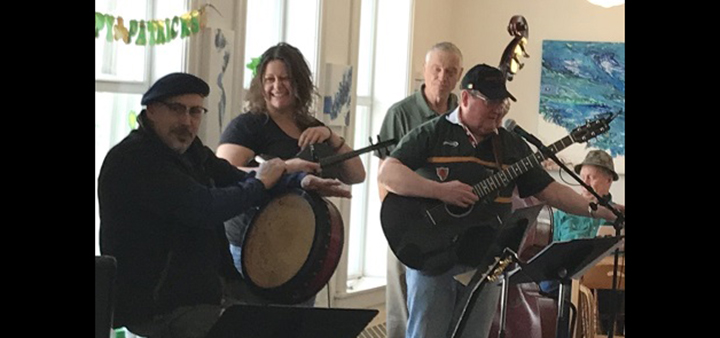 Tumbleweed Gumbo will be returning to the Earlville Opera House just in time for St. Patrick's Day at 3 p.m. on Sunday, March 12. Tickets are available for purchase at earlvilleoperahouse.showare.com. (Photo from EOH)
EARLVILLE — The Earlville Opera House is pleased to present the fun and shenanigans of Tumbleweed Gumbo in the Arts Café on Sunday, March 12 at 3 p.m. – right in time for St. Patrick's Day!
Have you ever imagined yourself in an Irish Pub, joining in on those old rowdy songs about the Wild Rover and the Star of the County Down? Imagine no more! With Larry Jordan leading the charge, we're gonna have a rollikin, swollikin bold old time belting the choruses of Bold O'Donoghue, Black Velvet Band, The Rising of the Moon, and many more.
Sure, you can just stomp your feet, clap your hands and hoot as Central New York legend Liz Fiddle shreds Irish, Scottish, Quebec, and Cape Breton fiddle tunes between drinking songs (with a little help from Werner Koegst on bass, Steve Blais on bodhrán and button accordion), but we'll make the singin' easy for yez with lyric sheets and unconditional love for whatever comes outta yer gob!
Tickets to the show are available at earlvilleoperahouse.showare.com.
Earlville Opera House Arts Center is located at 18 East Main Street in the charming Village of Earlville, NY and is handicap accessible. Masks required due to no HVAC in the 1892 venue. Please check our website for the latest protocols and for further information on our programs and services, and like us on Facebook!
Events are made possible with public funds from New York State Council on the Arts with the support of the Office of the Governor of New York and the New York State Legislature, and through the generosity of EOH members.
-Information from EOH