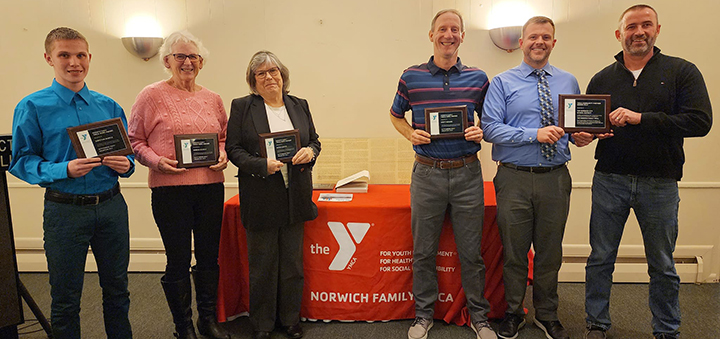 Volunteers, community partners, and outgoing board members were recognized for their dedication to the Norwich Family YMCA at their annual dinner. Pictured is youth volunteer Sebastian Maricle, volunteer Noreen Wessels, volunteer Kathy Coates, volunteer Rhett Genung, and representatives from community partner Norwich City School District. Not pictured but also recognized during the dinner were outgoing board members John Klockowski and Kecia Funaro Burton, who both gave nine years of service to the YMCA. (Photo from the Norwich Family YMCA Facebook page)
NORWICH — On Wednesday, February 1, 2023, the Norwich Family YMCA conducted the 135th Annual Meeting of the Norwich YMCA organization at the Canasawacta Country Club.
During the annual dinner, the Y recognizes outgoing board members while highlighting the work of the Y and celebrating some of the many volunteers who support the day to day work of the Y.
A volunteer is a person who voluntarily offers himself or herself for a service or undertaking, a person who performs a service willingly and without pay. Volunteers created the YMCA Movement in London, England 177 years ago and volunteers created the Norwich YMCA 160 years ago. Volunteers are the lifeblood of our organization and our community. Volunteers are our heroes.
We would like to acknowledge and thank this year's recipients and our outgoing volunteer board members at the Norwich Family YMCA. Your commitment, dedication and support are greatly appreciated and have not gone unnoticed.
Youth Volunteer: Sebastian Maricle
Adult Volunteer: Rhett Genung
Adult Volunteer: Noreen Wessels
Adult Volunteer: Kathy Coates
Community Partner: Norwich City School District
Outgoing Board Member: John Klockowski, 9 years of service
Outgoing Board Member: Kecia Funaro Burton, 9 years of service
-Information from the Norwich Family YMCA