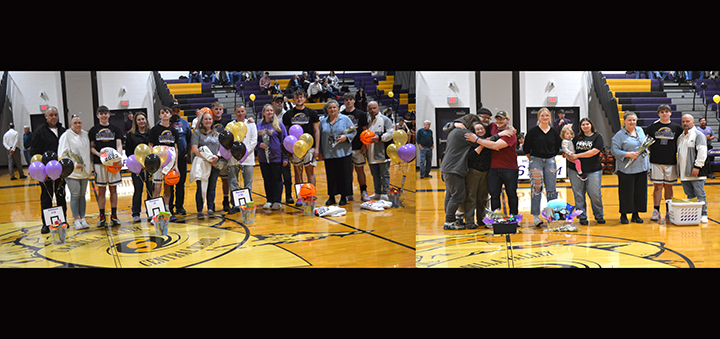 1) The Unadilla Valley Storm boys basketball team honors its five seniors. Pictured from L to R: Dakota Johnson, Mitchell Thompson, Trent Marinelli, Kaden Butts, and Trason Murray. (Photo by Morgan Golliver) 2) The Unadilla Valley indoor track team was honored prior to the boys basketball game. Pictured from L to R: Bruce Townsend , Allison Allen, and Trason Murray with their families. (Photo by Morgan Golliver)
NEW BERLIN – The Unadilla Valley Storm boys basketball team came out on top with a 62-49 win over Sidney on Senior Night. A nice win for what has been an up and down season for the Storm.
Prior to the game, the basketball and the indoor track seniors were honored. For the basketball team, Mitchell Thompson, Dakota Johnson, Kaden Butts, Trason Murray, and Trent Marinelli were all honored. Murray, along with Bruce Townsend, and Allison Allen, were recognized for their efforts on the indoor track team throughout their high school careers.
All five seniors made up the starting lineup. Most games this season usually featured three senior starters. The seniors each scored at least two points in the contest.
UV took a 29-19 lead at halftime and played tremendously on defense with blocks, steals, and capturing rebounds off Sidney's missed shots. The defense did have a hard time containing an extremely tall athlete in Jalen Reardon and many defenders found themselves in foul trouble in trying to guard him.
However, the Storm offense found their rhythm throughout the entire game. Trason Murray had a stellar game as he had confidence shooting three-pointers. He knocked in four three's to finish with 23 points. Zach Smith finished behind him with 10 points while Kaden Butts had eight in the win.
UV stands at 5-12 on the season and heads to Otselic Valley on Thursday at 7 p.m.
Scores by Quarter:
SI 7 12 14 16—49
UV 14 15 19 14—62
SI: Connor Van der Sommen 20, Jalen Reardon 16, Daniel Morris 6, Devin Baker 4, Chris Moreno 3.
UV: Trason Murray 23, Zach Smith 10, Kaden Butts 8, Haywood Edwards 7, Tucker Cattanach 7, Dakota Johnson 3, Trent Marinelli 2.
Three-Pointers: SI 5 (Van der Sommen 3, Baker, Moreno); UV 5 (Murray 4, Cattanach)