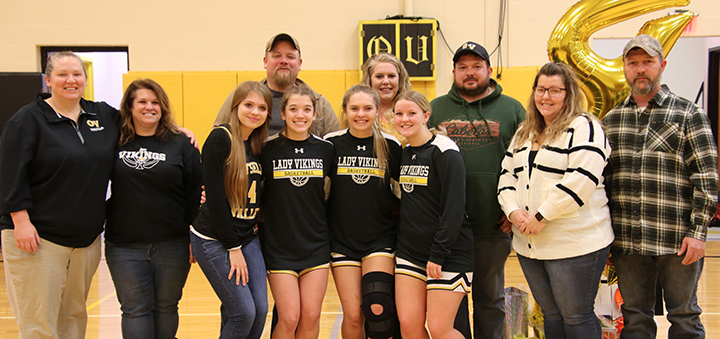 The Otselic Valley Vikings girls basketball team honors its three seniors in win over Cincinnatus. Pictured Left to Right is: Coach Danielle Graham, Emily Smith (first girl in warmup), Cassidy Will, and Tori Foster with their families. (Photo by Kathryn Rutz)
OTSELIC – The Otselic Valley Lady Vikings came to play on Thursday evening in the dominating 45-14 victory over Cincinnatus. The Lady Vikings also honored their three seniors; Emily Smith, Cassidy Will, and Tori Foster and thanked them for their hard work and dedication to the basketball program.
OV played tremendously on defense throughout the entire game, limiting the Red Lions from any scoring chances this time. The Red Lions had defeated OV in the previous match-up 38-28, so OV knew they had to make this one count late in the season, which they certainly did.
In the second and final quarter, the Vikings held Cincinnatus to only two points while the offense went to work. Cassidy Will led OV with 14 points while Tori Foster achieved a double-double with 12 points and an impressive 12 steals on the night. Miranda Hackett also scored 12 points in the win.
OV currently sits at 5-9 on the season with a few regular season games left, including Tuesday's game against Stockbridge Valley. Stockbridge Valley defeated the Vikings in a one-point game, 33-32 in their previous meeting back in December.
Scores by Quarter:
CI 6 2 4 2—14
OV 10 12 14 9–45
CI: Jushawna Crane 6, Justice Crane 4, Mandi Waltz 2, Sidney Glover 2.
OV: Cassidy Will 14, Tori Foster 12, Miranda Hackett 12, Madison Bartlett 8, Emily Smith 2.
Three-Pointers: CI 0; OV 1 (Foster)