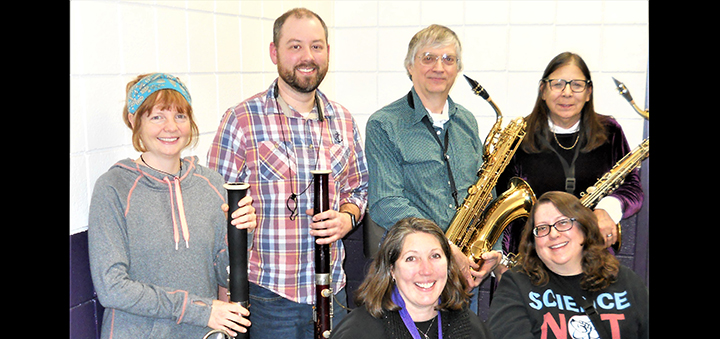 The Mid, Low and Double reed sections Section Front rrow L-R: Anne Monaco, and Meghan Leonard [alto sax]; Back Row L-R: Melissa Wilson and Seth Williams [Bassoon], Keven Simmons [baritone sax], Rebecca Nelson [Tenor sax]. Missing from the photo is; Mindy Tortolon [bass Clarinet]. These are our mid and low- tone reed instruments. These are the sections that Guy Lombardo called, "The sweetest music this side of heaven." Our folks are a close tie for first place. (Submitted photo)
CHENANGO COUNTY — The Mid-York Concert Band is preparing for its annual Spring Concert. Maestro Doug Ernst will appear again as our director. This 40-piece band is made up of professionals, teachers, and dedicated amateurs from Chenango and surrounding counties. You are sure to be pleased with their fine sound.
We encourage musicians in the surrounding area to grab their instruments, dust off the cobwebs and join us as we prepare for our Spring program. All the remaining rehearsals are 7 to 9:30 p.m. on January 31, February 7 and 14, March 7 and 21, April 11 and 25, and May 2.
The dress rehearsal will be Wednesday, May 17. The concert will be at 2 p.m. on Sunday, May 21 in the Norwich High School Auditorium. Anyone who would like to join us for the rehearsals and concert should contact Music Director Doug Ernst at midyorkband@gmail.com. It is not required that you audition.
Since the concert is close to Memorial Day, there are sure to be patriotic numbers. Listen for "The Stars and Stripes Forever," the "Star Spangled Banner," and a musical tribute to our Armed Forces.
This ensemble is made possible with public funds from the Decentralization Program, a regrant program of the New York State Council on the Arts with the support of the Governor and the New York State Legislature and administered by The Earlville Opera House.
-Information provided by the Mid-York Concert Band