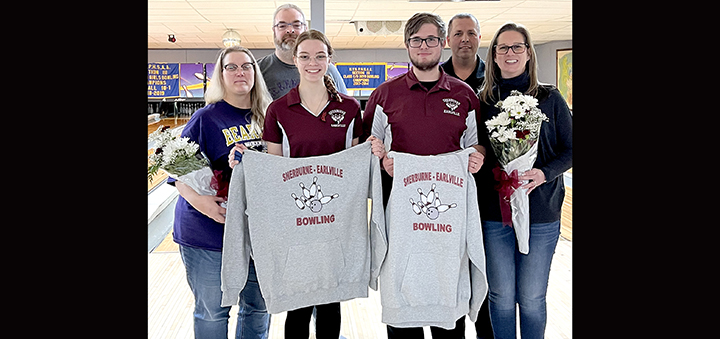 The Sherburne-Earlville Marauders bowling team honored its two seniors in win over Herkimer. Jacob Jenkins led the team with a 635 series while Olivia Fehlner finished behind with a 522. (Photo from S-E Central School District)
EARLVILLE – On Thursday, the Sherburne-Earlville Marauders bowling team got right back to winning fashion, after setback to Adirondack, as they swept Herkimer 5-0. Prior to the match, S-E honored seniors Jacob Jenkins and Olivia Fehlner, who have been leading the team throughout the season, and appreciated their efforts and dedication to the bowling program.
Jenkins led all bowlers with a 635 series, including a 211 in the opening game before finishing with a 236 in the final. Fehlner bowled a 208 in the second game to finish behind him with a 522 high series.
S-E, who are the defending Section III Class C-D champions, have one more regular-season match against Waterville on Monday at 4 p.m before the postseason starts in February. The Marauders are 10-2 on the season and 7-0 in CSC Division II league play.
Full Results:
S-E:
Colton Camenga 135
Evan Chesebro 141
Leland Smith
171 130 (301)
Nicholas Jenkins
188 157 (345)
Riley Smith
153 168 128 (449)
Olivia Fehlner
138 208 176 (522)
Jacob Jenkins
211 188 236 (635)
Herk:
Adam KasT. 94
Emmanuel Johnson
104 96 (200)
Rob Stone
117 92 95 (304)
Michael Goodson
73 151 101 (325)
Josh DiPerro
149 116 122 (387)
Dave Bass
163 100 127 (390)