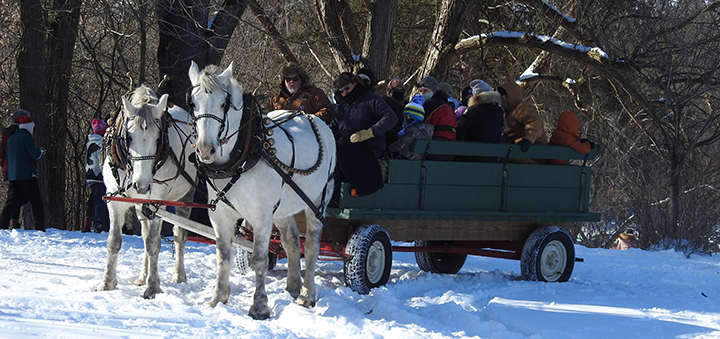 The Roger Center celebrates its 45th Annual Winter Living Celebration January 21, from 11 to 3 pm. The events includes roasting marshmallows, live music, ice sculptures, a human bird feeder, and one of the biggest traditions; horse-drawn wagon rides. The event is free to attend and fun for all ages.(Submitted photo)
SHERBURNE – Experience the joy of winter during the 45th Annual Winter Living Celebration, from 11 a.m. to 3 p.m. on Jan. 21st at the Rogers Environmental Education Center in Sherburne.
Hosted by The Rogers Center, with help from our sponsor NBT Bank, and several regional organizations such as the Bullthistle Hiking Club and the 209th Chapter of Trout Unlimited.
"This winter, we say hello to a new year full of magic and merriment at Rogers. With so much enthusiasm from our staff and excitement from our community, this is our chance to showcase the best of what the winter season has to offer," said David Carson, Rogers Center executive director.
Visitors have the opportunity to become winter anglers at the ice fishing demonstration, grab a friend and learn how to use a cross-cut saw, and roast marshmallows over a campfire.
Environmental Conservation Officers Jeremy Oldroyd and Mike Burkholder will be bringing an airboat to help demonstrate safety tips when you're on ice.
In keeping with Winter Living Celebration tradition, visitors can make crafts in the Rogers Center, watch Stan the Iceman turn ice into works of art, and get up close and personal with our local feathered friends by becoming a human bird feeder.
Once you've had a chance to walk around, relax on a horse-drawn wagon ride around Rogers Center's property, admiring all it has to offer. Or take a seat and listen to live music by Jenni Larchar & friends.
Thanks to the Chenango Bird Club and the Rotary Club of Sherburne, food and refreshments will be available for purchase, with all proceeds to benefit Friends of Rogers.
Rogers Center is operated by Friends of Rogers  Environmental  Education Center, Inc., a nonprofit organization that offers educational programs for all ages. Seasonal winter hours are from 10 a.m. to 4:00 p.m. Wednesday through Saturday, and from 12 a.m. to 4 p.m. on Sunday. For more information, call (607) 674-4733 or visit them on the web at http://friendsofrogers.org/
– Information from the Rogers Center