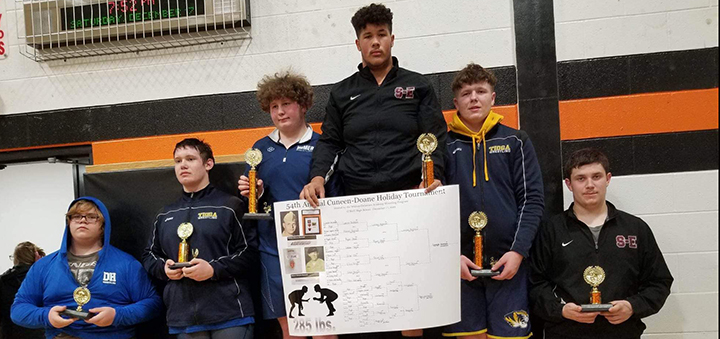 Sherburne-Earlville's Landon Andrade pinned Sean Brown in the 285 finals to finish 3-0 in the 2022 Cuneen Doane Tournament. Andrade is also 10-0 on the season. S-E's Brier Cox took fifth in the same weight class. (Photo from S-E Youth Wrestling)
WALTON – On Saturday, the Sherburne-Earlville and the Bainbridge-Guilford/Afton/Harpursville wrestling teams competed at the Cuneen Doane Tournament in Walton. Tioga won the tournament overall with the Bears finishing in eighth and the Marauders in 12th.
For B-G/A/H, Darren Florence won on an 8-1 decision against Chenango Valley's Anthony Valls in the 110 weight class finals. Teammate Joey Florence lost in a 3-1 decision to Tioga's Jayden Duncanson in the 126 finals. Jose Bivar made the consolation finals, but lost in a pin by Pine Bush's Logan Pennell at the 2:29 mark.
Sherburne-Earlville took five wrestlers to the tournament with four placing in the top five. The top wrestler for the Marauders was Landon Andrade. Andrade went 3-0 on the day, including a pin of Sean Brown (Homer) in the 285 weight class finals. He is now 10-0 on the season.
Brier Cox came in fifth place in the same 285 weight class while Cody Clarkson earned fifth in the 215 pound class.
Selina Moore came in as a six seed and placed fourth in the 138 weight class. She went 4-1 on the day for the Marauders.
B-G/A/H will be in Bainbridge, hosting Walton-Delaware Academy on Tuesday at 6 p.m. S-E will have their first home dual meet vs Morrisville-Eaton on Wednesday at 6 p.m.
Before or after the dual meet, attendees are encouraged to go to Gilligan's to support the S-E wrestlers. Mention "Sherburne-Earlville Wrestling" when placing an order and a percentage will be given back in support of the program.